Portrait of Jennie
(1948)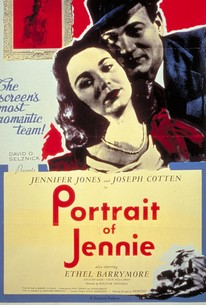 Portrait of Jennie Photos
Movie Info
In this film, Joseph Cotten plays an artist who meets an intriguing schoolgirl named Jennie. Over the next few months Cotten meets Jennie again and again, eventually uncovering evidence that he has been conversing and falling in love with the ghost of a girl who died years earlier.
Critic Reviews for Portrait of Jennie
Audience Reviews for Portrait of Jennie
wonderful cinematography, overbearing tiomkin score, silly melodrama with supernatural elements that requires huge suspension of disbelief, then works like gangbusters. soo selznick...
Stella Dallas
Super Reviewer
A painter somehow contacts the spirit of a young girl who died and falls in love with her? It's a strange story, but it makes for an interesting movie.
½
I had only seen this film only the once,until recently and I recall it was on a rainy Sunday afternoon. I only started watching this film has there was not much else on, however when it had finished, i wanted to watch it again,and stayed up late so that i could watch the repeat showing.what make this stand out was the other world feeling of it,the photography,the feel of New York in a bygone era, and the music,Debussey, which is haunting adds to the overall ambiance,It is in essence a love story which transcends time and , is told with tenderness and beauty. It's mood lingers in the heart and its planes challenge the mind. It always leaves a void when the film ends and i can truly feel Ebans pain at losing Jennie. You can read into a lot of metaphorical stuff in the film and the book - cleverly done. The ending is both heartening yet crucifying,emotionally a story of two star crossed lovers, The overall realisation that through the barrier of time love is enduring and never ending, a wonderful film which is a must for all romantics out there. Highly recommended.
Cassandra Maples
Super Reviewer
Portrait of Jennie Quotes
There are no approved quotes yet for this movie.