Polyester
(1981)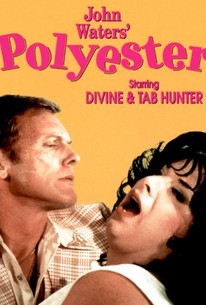 Movie Info
After making a name for himself with such underground gross-out epics as Pink Flamingos and Desperate Living, director John Waters made a bid for somewhat wider acceptance with this black comedy, which is sedate only by the standards of his previous work. Francine Fishpaw (Divine) is a housewife whose life has become a living hell. Her husband Elmer (David Samson) runs a porno theater (currently showing the classic My Burning Bush) and is having an affair with secretary Sandra (Mink Stole), a vision of sleaze in Bo Derek-style cornrow braids who informs Elmer, "Children would only get in the way of our erotic lifestyle!" Francine has two teenage children, Dexter (Ken King), who likes to sniff glue and stomp on women's feet, and Lulu (Mary Garlington), a brazen slut who hangs out with overage juvenile delinquent Bobo (Stiv Bators) and gleefully anticipates her next abortion. Francine's best friend, Cuddles (Edith Massey), is a slightly insane heiress who is somehow convinced she's a debutante. Francine's life has become so miserable that her dog commits suicide rather than witness it, but a light appears on the horizon -- Todd Tomorrow (Tab Hunter), the handsome and dashing owner of a local drive-in specializing in art films (their current bill is a Margurerite Duras triple feature), with whom Dawn enters into a torrid affair. Subversive on all fronts, Polyester was originally shown in "Odorama" (patrons were given a card with ten scratch-and-sniff patches, to be smelled at key points in the action) and featured a romantic theme song sung by that new hitmaking duo, Deborah Harry and Bill Murray.
News & Interviews for Polyester
Critic Reviews for Polyester
Audience Reviews for Polyester
Like a Fassbinder or Douglas Sirk movie made by John Waters, it is a mess with all his trademark filth, irritating overacting and ridiculous lack of structure and focus, and I guess it would be only amusing and worth seeing in the cinema for the Odorama scratch-and-sniff gimmick.
Carlos Magalhães
Super Reviewer
Classic John Waters. Bad in all the right ways.
Robert Fearon
Super Reviewer
I think that "Polyester" is John Waters' best movie. "Female Trouble" may have been funnier, but I prefer the elements in this softer creation to that earlier, meaner-spirited film. "Polyester" was the director's bridge between his last bad taste epic, "Desperate Living" (which was also great) and his first attempt at something mainstream, "Hairspray". So, what I think happened was a decrescendo of creative emotion. John Waters still has something to say about the lower middle-class here, but he used up the angry parts of his perspective when he was younger. Still, he wasn't quite ready for parody... In "Polyster", I suspect that the director wanted to utilize aspects of the culture that he had affection for. For one thing, Divine never played a more sympathetic character, and she was teamed up with Edith Massey, who was, in my opinion, the most memorable and lovable and enjoyable of all of the Waters' group. I think it's closer to call "Polyester" a tongue in cheek comedy than a satire. What's so funny about "Polyester" is how everybody acts around Francine, who is extremely kind, but ineffectual and dopey. Why is everybody so pre-occupied with tormenting her? I love how LaRue gets increasingly demented. And nobody can act humiliated and put-upon like Divine... Also, the sets are very warm and pleasant - I actually loved the Fishpaw house. Warm, funny, funny movie...
Cassandra Maples
Super Reviewer
Polyester Quotes
There are no approved quotes yet for this movie.