Planet B-Boy
(2007)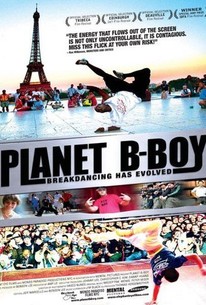 Movie Info
Director Benson Lee explores the global resurgence of breakdancing in a documentary that proves the so-called "B-boying" trend didn't die with the passing of the '80s. An urban dance style that started on the streets of New York City in the 1970s, B-boying would become an important building block in the formation of hip-hop culture. Though the popularity of such films as Beat Street and Breakin' would inspire teens all over the world to jump onto the cardboard to "pop and lock," as with most trends the urban dance craze seemed to fade into oblivion as quickly as it had once proliferated. But some fads have an uncanny way of resurfacing just when they seem to have disappeared forever, and as limber youths from Germany, Japan, South Korea, France, and the United States all prepare to compete in the Battle of the Year, filmmakers follow the ambitious young dancers as they prepare to take part in one of the fiercest dance competitions on the planet. ~ Jason Buchanan, Rovi
News & Interviews for Planet B-Boy
Critic Reviews for Planet B-Boy
Audience Reviews for Planet B-Boy
½
Without an interest in break dancing either then or during it's comeback, I found this one difficult to sit through. Boring as hell.
John Ballantine
Super Reviewer
Great documentary that introduces us into the world of break-dancing in various countries.
"Breakdancing has evolved" Jumping continents and crossing cultures, "Planet B-Boy" looks at the history of breakdancing and its vibrant resurgence in urban cultures around the world.
REVIEW
In this fabulous edited documentary, Filmmaker Benson Lee follows five groups of young guys who participate to an international break-dance competition. The well oriented interviews are in parallel story and video editing with the judges, some classic images from history in dance and Olympics, participants, their practices and at last the final championship competition, Battle of the Year. The judges do a swell job by wonderfully explaining the history and diverse dance styles of five different countries / cultures. The documentary maker follows the b-boys from the US, South-Korea, Japan and France. Every conversation goes in parallel montage with the family member's point of view. This is where I got a great feeling and depth about the dancers background. This film has so much more to offer than a bunch of well edited dance scenes. Of course the moves of those guys are breathtaking. Each one of them, in a group or in separated, has an interesting break-dance style. Amazing that they were not professionals before, but inspired by them (acrobats, James Brown, Olympic games, etc.) Not that important to the impressive storyline but Benson Lee does not show the dance movements more profound. Many of the dance moves are good, but sometimes the video is too fast edited for the screen to follow it easily without any interruption of a sudden interview. This film shows also the team playing character. Al the five cultures come together at a point of friendship. It gives you the feeling of it's not about winning, for certain not for the prize money, but being together. They made a cause: "those guys made a career out of their dream". I can conclude that when people enjoy their fantastic dream, whatever it is. You can eventually make a job out of it and realize that dreaming isn't some floating idea, but a not yet existing fact of your identity. It's you who needs to find out what your purpose in the future is. Giving up is not an option.
Lorenzo von Matterhorn
Super Reviewer
Planet B-Boy Quotes
There are no approved quotes yet for this movie.