Piranha 3DD
(2012)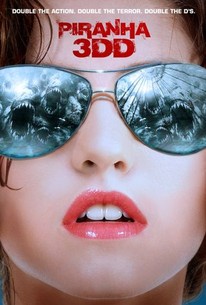 TOMATOMETER
AUDIENCE SCORE
Critic Consensus: It strains to up the gore and self-awareness of it predecessor, and -- despite some game celebrity cameos -- the result is a dispiriting echo of 2010's horror-comedy.
Movie Info
After the terror unleashed on Lake Victoria in Piranha 3D, the pre-historic school of blood thirsty piranhas are back. This time, no one is safe from the flesh eating fish as they sink their razor sharp teeth into the visitors of summer's best attraction, The Big Wet Water Park. Christopher Lloyd reprises his role as the eccentric piranha expert with survivor Paul Scheer and a partially devoured Ving Rhames back for more fish frenzy. David Hasselhoff trades in the sandy beaches of "Baywatch" to be a celebrity lifeguard at the racy water park. Prepare for double the terror, double the action and double the D's in this sequel also starring Gary Busey, Katrina Bowden, Danielle Panabaker, Matt Bush, Chris Zylka and David Koechner. -- (C) Weinstein
News & Interviews for Piranha 3DD
Critic Reviews for Piranha 3DD
Audience Reviews for Piranha 3DD
Wow, I was not expecting the follow-up to the so-bad-it's-excellent Piranha 3D to pretty much just inhabit the "so bad" spectrum, though I ignored warning signs at my own risk. I found the 2010 Piranha to be a sheer blast of campy entertainment, with some world-class gore effects and a game cast. I was actually terribly excited about a sequel; I'm ashamed to admit it now. Where did things go so horribly wrong? Much like Expendables 2, the movie's tone shifts from tongue-in-cheek 80s throwback to meta self-awareness. The movie becomes more of a lousy comedy with some absurd violence rather than a horror movie with a nasty sense of humor. The entire premise is so labored, that a water park would become piranha-infested, and the characters are so unlikable; to dub them one-dimensional is to be too kind. The acting is abysmal even by bottom-of-the-barrel B-movie standards. The celebrity cameos feel wasted, with David Hasselhoff soaking up every second of desperation. The tension is next to nil and the gore effects are pretty cheesy, trading gallons of blood for ingenuity (many character deaths occur off screen, like Gary Busey's). Then once the piranhas strike, the movie just completely abandons any sense of reality and becomes a gonzo comedy of the absurd, with characters behaving like idiots from another dimension. There's even one character that gets decapitated by a simple string of flags. It's at this point that Piranha 3DD drops any slapped-together sense of purpose. And yet this ghoulish mess can only barely make it to a scant 70 minutes (good luck getting through the abominably unfunny end credits outtakes). Reportedly, 3DD had almost the same budget of 3D. Where the hell did that money go? Piranha 3DD completely misfires on every level, failing as a horror movie, a horror-comedy, a comedy, a gore movie, hell, as a suitable movie. Whatever the metric, this movie blows. If you're hard-pressed for gratuitous nudity soaked in blood, watch the superior 2010 Piranha film instead. I'm going to start drinking heavily and forget I ever looked forward to this monstrosity on taste. Nate's Grade: D
Nate Zoebl
Super Reviewer
Really bad and I don't know where the 82min run time is as the credits come up after just 68mins!! The first was quite a good tongue in cheeky, B-movie horror comedy that had some thought put into it. This is a quick cash in, not funny, gory or even sexy considering the title. Avoid it.
I actually thought this was about as entertaining as the first one, albeit just a rehash of all the elements that made the original so much fun. That's the reason for the point drop, but I'd still recommend it to anyone who liked the original and waited for the sequel like I did. It's just hilarious and a ton of fun!
Josh Lewis
Super Reviewer
Piranha 3DD Quotes
There are no approved quotes yet for this movie.