Pinky
(1949)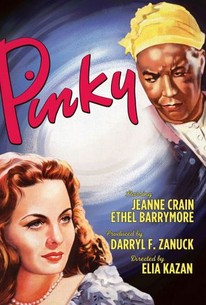 Movie Info
Elia Kazan directed this, one of Hollywood's early attacks on racism, starring Jeanne Crain as Patricia "Pinky" Johnson. Patricia is a light-skinned black woman who is studying nursing at a New England medical institute. A white doctor, Thomas Adams (William Lundigan), has fallen in love with Patricia and wants to marry her, but Patricia refuses his proposal. Convinced their interracial union would never work out, Patricia believes Thomas would never be able to endure the acrimony that would be heaped upon their marriage. Patricia leaves New England to return to her childhood home in the South, where her grandmother (Ethel Waters) works for rich widow Miss Em (Ethel Barrymore). When Miss Em takes ill, Patricia cares for her. Upon Miss Em's death, it is discovered that she has bequeathed her entire estate to Patricia. Miss Em's family disputes the will because Patricia is black, and a courtroom battle ensues over the estate.
Audience Reviews for Pinky
The title character, Pinky, is a woman returning to the south after going to school and getting her nursing degree up north. While sheâ(TM)s been light enough to â~passâ(TM) while away, sheâ(TM)s soon reminded of just how differently white people treat her once they realize sheâ(TM)s African-American. The film is thus a study in racism and a good one at that, with powerful early scenes giving us the minority perspective in incidents ranging from casual condescension to outright harassment â" and these come from all sides, including the men of the town, society women, and the law. Lest you think youâ(TM)ve seen all this sort of thing before, the film isnâ(TM)t always predictable, and Director Elia Kazan does a great job of finding a balance between making his points and telling a story. The resulting impression we get of the attitude of most of the white people includes a haughty feeling of superiority, distrust, and anger, and it feels highly realistic. Beneath it all we feel simmering danger, one that might be unleashed in horrible ways if the African-Americans donâ(TM)t keep in line, or otherwise reject the proposition that theyâ(TM)re simply inferior. There are several instances of this, including a near-rape, but the scene where Pinky and her grandmother have to walk through a group of sullen white people in a courtroom really stands out, and Kazan makes it all the more ominous by exercising restraint. Itâ(TM)s not all bad though; for example, we get this lovely, nuanced, and honest reaction from her fiancà (C), a white doctor who finds out about her racial identity only after coming south: âWhy I donâ(TM)t think Iâ(TM)m prejudiced. Iâ(TM)m a doctor and I hope Iâ(TM)m enough of a scientist not to believe in the mythology of superior and inferior races. It is a tricky business though. You never know what exists deep down inside yourself. I want to be absolutely sure that nothing like that exists inside of me.â? Regrettably, the role of Pinky is played by Jeanne Crain, a Caucasian, when both Lena Horne and Dorothy Dandridge were apparently interested. I say that for the obvious reason, that itâ(TM)s another instance of whitewashing, but also because Crain is a little wooden, and doesnâ(TM)t have the necessary spark to completely pull off the part (Oscar nomination notwithstanding). Dandridge would have been amazing. There is a small possible silver lining in the casting choice, in that in seeing how ludicrous it was for someoneâ(TM)s attitude to flip based on Pinkyâ(TM)s âblacknessâ?, perhaps it would take a shorter mental leap for some to extend that realization to the entire premise of judging others based on the color of their skin. The rest of the cast is stronger, with Ethel Barrymore leading the way. I also liked Frederick Oâ(TM)Nealâ(TM)s performance as a lazy but perceptive neighbor, and Ethel Waters delivers a lot of heart as her grandmother. The film also has elements of feminism. We see it in the older generation, with Barrymoreâ(TM)s character acerbic but tough as nails, and Waters as a hard worker and survivor who sacrifices for others. We also see it in Pinky when her fiancà (C) tries to take her away from it all. How she asserts herself is wonderful â" she doesnâ(TM)t want to lose her identity, her self â" both as a person of color and as a woman - even if she is in love. The bravery and the strength displayed is heartwarming. The film feels ahead of its time for 1949, presaging the Civil Rights movement of the 1960â(TM)s, and the continued struggle all the way up to the present day. As Pinkyâ(TM)s lawyer puts it, âYour honor, this is a small country town. We've always thought that what happened here was our own private concern. This is no longer true. Just as it is no longer true that our country as a whole can exist entirely to itself.â? What a nice message this is, this acknowledgment of something larger to consider, and a signal that the times needed to change.
Antonius Block
Super Reviewer
An early and slightly dated look at racism. It was probably great for its time and kudos to the maligned Kazan for bringing it forward. Don't expect too much and you will enjoy it.
John Ballantine
Super Reviewer
Sad to see a white actor play the part of a light skin black women, But excellent story line showing life in the United States, most people think it was limited to the south which it was not. A movie that will never be seen on TV today and should be watched by all. Any film lover should enjoy this. 4 stars
Bruce Bruce
Super Reviewer
Pinky Quotes
There are no approved quotes yet for this movie.