Picture Snatcher
(1933)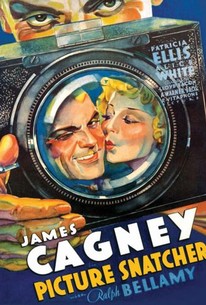 AUDIENCE SCORE
Critic Consensus: No consensus yet.
Movie Info
An admirably tough B-picture enlivened by an energetic James Cagney performance, Picture Snatcher stars Cagney as Danny Kean, a former gangster who has decided to go straight after a stretch in the big house. Danny has fallen for Patricia (Patricia Ellis), the daughter of the cop who put him away (Robert Emmett O'Connor). Dad isn't convinced that Danny has left his life of crime behind him, and he isn't too impressed with his new career taking pictures for a sleazy tabloid newspaper. Between getting a lurid photo of a fireman in front of a burning building (where his wife and her lover met their fate) and a daring shot of a woman being executed (based an actual incident when a New York Daily News photographer got a photo of Ruth Snyder in the electric chair), Danny's work is selling papers but hardly making Officer O'Connor think his daughter is in good hands (especially since he was in charge of press security for the execution). Short, sweet and sassy, Picture Snatcher is the sort of gutsy fare Warner Bros. did best in the 1930's; Ralph Bellamy turns in a great supporting performance as Danny's boozy editor.
Critic Reviews for Picture Snatcher
All Critics (3) | Fresh (2) | Rotten (1)
Loud, trivial, illogical comedy thrown together as an excuse for James Cagney to exhibit a series of tricks for the edification of taxi drivers, professional wrestlers, and college boys.
A rip-roaring, crackerjack, sort-of gangster picture in the best pre-code Warner Brothers tradition that has been long overlooked in favor of Cagney's more famous roles.
Like the best of these studio quickies, this one provides audiences with a little of everything, and the entertainment value is enormous.
Audience Reviews for Picture Snatcher
½
it's all about cagney. this is what he does best
Stella Dallas
Super Reviewer
Showing that sensationalist journalism is nothing new this breezy little number puts Cagney front and center as a con going straight even if it isn't in the most savory profession. The big difference is that Cagney is shown to have a conscience something that most of the bottom feeding slugs that invade peoples privacy today surely lack.
½
I really liked this movie, it combines the gangster movies with the reporter movies, and adds some romance too. It's a great combination with a great cast, with Cagney as the main character. This is an exciting, fun, romantic, and sometimes humorous movie, and I highly recommend it.
Picture Snatcher Quotes
There are no approved quotes yet for this movie.