Phenomena (Creepers)
(1985)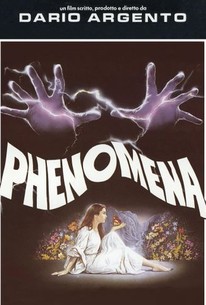 Phenomena (Creepers) Photos
Movie Info
Similar to the theme about the young woman with psychic powers in Stephen King's Carrie, this above-par occult horror film stars Jennifer Connelly as Jennifer Carvino, a fragile-looking waif whose unusual power to control insects comes in handy when she is psychologically brutalized in a nightmarish Swiss boarding school. Two vicious teachers and students who constantly taunt her out of jealousy (her father is a famous movie star), make Jennifer's life at school an inferno. When she calls on her insect friends for help, the school becomes victimized by swarms of nasty flies. But in the meantime, more serious evil is afoot in the mountains: some sort of monster is murdering young girls and the only one who seems even close to catching the killer is a wheelchair-bound scientist who specializes in insects (Donald Pleasance). He has the bright idea of unleashing a "sarcophagus fly" that will find decaying corpses and thereby lead Jennifer to the dead victims and it is assumed, the killer as well. Director Dario Argento's trademark dream/nightmare sequences add their own horrific content to the story, and the few plot holes here and there are offset by some mind-numbing images that are expected by any cognoscenti of this genre.
News & Interviews for Phenomena (Creepers)
Critic Reviews for Phenomena (Creepers)
Audience Reviews for Phenomena (Creepers)
The first 4/5ths of this movie were pretty slow, but once she becomes lady of the flies, gets chased by a mutant 4 year old and gets aided by a razor-wielding chimpanzee, well it's like coming home again.
Curtis Lilly
Super Reviewer
½
Lacks the power of his early works, but still packs punch, mostly by the deranged last minutes. Probably Argento's last hurrah.
Pierluigi Puccini
Super Reviewer
ridiculously over the top in every way possible, i guess u could say it's the culmination of argento's work as it seems to even verge on self-parody. a very young jennifer connelly stars as a boarding school student with a strange affinity for insects who is enlisted to help track down a serial killer. from there things only get wackier and after a certain point i just could not look away, dumbstruck by the audacity. too much iron maiden but the ending(s) are worth waiting for
Stella Dallas
Super Reviewer
Phenomena (Creepers) Quotes
There are no approved quotes yet for this movie.