Peter's Friends
(1992)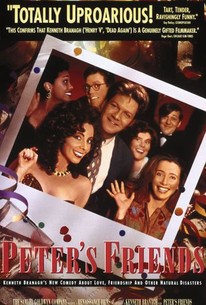 Movie Info
This comedy drama, a sort of British version of The Big Chill (1983), was directed by Kenneth Branagh. Ten years after they were members of a music and comedy troupe at Cambridge University, a diverse group of friends in their early 30s gather at the expansive estate of Peter Morton (Stephen Fry), who's invited them there for a reunion. Among the guests are Andrew (Branagh), who has married Carol (Rita Rudner), the star of the American situation comedy he writes; lonely Maggie (Emma Thompson), who thinks she may be in love with Peter; Roger (Hugh Laurie) and Mary (Imelda Staunton), a couple in advertising who have lost a child; and single Sarah (Alphonsia Emmanuel), who's always attracted to the wrong men, including her latest boyfriend, the married Brian (Tony Slattery). Also on hand is Vera (Phyllida Law, the real-life mother of Thompson), a housekeeper who has protectively watched over Peter since childhood. Over the course of the weekend, various jealousies and fears are revealed between joyous feasts, but a startling, tragic announcement from Peter puts everyone's petty dramas into proper perspective. American stand-up comedienne Rudner wrote the screenplay with her husband, (Martin Bergmann).
Critic Reviews for Peter's Friends
Audience Reviews for Peter's Friends
½
I've been meaning to watch this film ever since reading its review on a Microsoft Cinemania '95 CD... it's very much a product of its time with the 80s soundtrack reminding me of discos from the early 90s. A bunch of thespians playing thespians; there's not much to describe with giving the plot away - worthwhile if you're a fan of Branagh & Thompson or Fry & Laurie.
Ross Collins
Super Reviewer
Interesting relationships between old friends.
Candy Rose
Super Reviewer
Peter's Friends Quotes
There are no approved quotes yet for this movie.