Peter Pan Live!
(2014)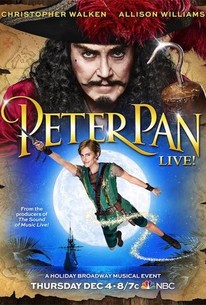 Movie Info
Preparing to sprinkle fairy dust across America, NBC presents a bold new LIVE television production of the classic Broadway musical that will gather friends, families and anyone who refuses to ever grow up. Following in the footsteps of the phenomenally successful The Sound of Music LIVE! - which drew over 18 million viewers - comes this musical masterpiece that tells the beloved story of Peter Pan, the mischievous little boy who ran away to Neverland. Get ready for show-stopping stars, stunning costumes, extravagant sets and delightful music that will have everyone in your home singing along.
Critic Reviews for Peter Pan Live!
Audience Reviews for Peter Pan Live!
Incredibly embarrassing effort from Christopher Walken who looked so much like he was reading from cue cards that the off-rhythm performance couldn't be chocked up to his usually characteristic insouciance. Allison Williams is beautiful and fit with a crystal clear singing voice to boot, but she didn't really bring much to the character of Peter Pan. She wasn't particularly funny, bold, boyish, or anything - just an adult woman speaking and singing the lines of a teenage boy. Broadway star Kelli O'Hara as Mrs. Darling and Taylor Louderman as Wendy were the highlights. I know the point of Peter Pan is to never let go of that wonder and curiosity you had as a child, but the mothering theme is so awkward. Wendy's bending over backwards here for this boy who hardly knows she exists as a romantic interest. Are all men essentially looking to marry their mothers? Do all women grow up to be mothers? Is it kosher to send your daughter off to "mother" this perpetual boy you once crushed on?
Alice Shen
Super Reviewer
Peter Pan Live! Quotes
There are no approved quotes yet for this movie.