Pet Sematary
(1989)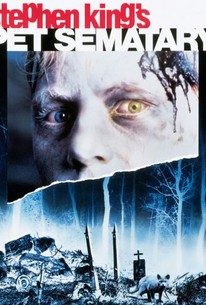 Movie Info
After moving to an idyllic home in the countryside, life seems perfect for the Creed family... but not for long. Louis and Rachel Creed and their two young children settle in to a house that sits next door to a pet cemetery - built on an ancient Indian burial ground. Their mysterious new neighbor, Jud Crandall, hides the cemetery's darkest secret until a family tragedy brings the secret to life. Now, an unthinkable evil is about to be resurrected.
Critic Reviews for Pet Sematary
Audience Reviews for Pet Sematary
½
King's screenplay (adapted from his own novel) is generally well structured despite its flaws, but the movie suffers mainly from a stiff dialogue and Lambert's poor, amateurish direction, which has trouble even with the most basic things like the geography of the scenes.
Carlos Magalhães
Super Reviewer
When it comes to Stephen King adaptations, it seems that the less he actually has to do with it, the better it ultimately is. This seems to be a case of a creative mind not being able to see the big picture. King wrote the screenplay for this film and made them follow it rigorously, also helping scout locations only 20 miles from his own home in Maine, being on set during most of production, and even providing a cameo as a minister. King is undoubtedly one of the foremost couriers from the land of the dead, and a true master of horror, that cannot be denied, but he puts too much into the pacing of scenes and doesn't pay constant attention to the plotting. What happens is that a film that should be a bit bare boned actually has meaning to its scenes, yet also drags its carcass across the screen. The situation set up is enticing and the comparison between the sanctity of life and the desecration of zombie-like demons is interesting and permissive. Other than the pacing, there isn't much to pick apart in this film, because the atmosphere, cinematography, and cast are extraordinarily perfect. Again, on the cast, there are some superb choices, especially when it comes to choosing Fred Gwynne ("The Munsters") as the old, Southern neighbor who knows a bit more than he lets on. You can see the complicated framework of his past and his horror at the actions that his neighbor takes. Also a great pick was the child actor who plays the devilish Gage (Hughes). He's a loveable angel one minute and a malicious demon the next, and that seamless transition is what makes some of the last scenes in the movie very frightening. The father (Midkiff) on the other hand is wooden and unlikeable, mostly because he never seems like a father, and more like an outsider who continually screws up. That and the character's supposed insanity does not come through, which make his final actions seem like that of a dolt. The ending ultimately pays for the pacing, because that's where the only scary bits of the film lie, and that's disappointing. Otherwise it has an eerie atmosphere and some grotesque visuals, so it's worth watching for sure.
Spencer S.
Super Reviewer
½
[img]http://images.rottentomatoes.com/images/user/icons/icon14.gif[/img]
Directors Cat
Super Reviewer
Pet Sematary Quotes
There are no approved quotes yet for this movie.