Perestroika
(2009)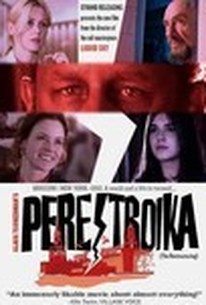 Movie Info
Slava Tsukerman directed this visually striking story of a man whose past is taking him on an emotional roller-coaster ride. Sasha Greenberg (Sam Robards) is an astrophysicist who left the Soviet Union in 1975 to defect to the United States and ended up designing nuclear weapons for the American military. In 1992, after Communism has fallen and the USSR has collapsed, Greenberg returns to Russia for the first time, and while his visit is prompted by an invitation to speak at a conference on physics, he's soon occupied with catching up with the friends he left behind. Greenberg crosses paths with Professor Gross (F. Murray Abraham), his former teacher and intellectual sparring partner, who followed a curiously similar path, turning his back on the United States to design weapons in the Soviet Union. Several of Greenberg's sweethearts also happen to be on hand, including Helen (Ally Sheedy), an astrophysicist from the United States, Natasha (Oksana Stashenko), a fellow scientist from Russia, and Jill (Jicky Schnee), an activist filmmaker. As Greenberg ponders his present and his past, his imagination carries him back and forth through his life, leading him to a state of mental chaos as Russia begins to move toward a new revolution. Perestroika was an official selection at the 2009 BFI London Film Festival.
Critic Reviews for Perestroika
Audience Reviews for Perestroika
½
In 1992, Sasha Greenberg(Sam Robards), a cosmologist, returns to Moscow after living 17 years in exile with more than his share of baggage, along with Helen(Ally Sheedy), who depending on the day of the week he may still be married to, and Jill(Jicky Schnee) who is his current squeeze. He is in town to talk at a conference that will also be attended by Professor Henry Gross(F. Murray Abraham), his mentor. "Perestroika" is set at a fascinating junction of time and place, as the Soviet Union is transitioning into a supposedly democratic Russia, while bringing up important issues like anti-semitism in the Soviet Union along with the fate of the Refuseniks. And then promptly the movie falls flat on its face. Part of this is due to its shabby look despite being filmed on location. And the acting is nothing to speak of either with the exception of F. Murray Abraham. What makes this all especially disappointing is that it is directed by Slava Tsukerman who once upon a time directed the exuberantly funky "Liquid Sky."
Perestroika Quotes
There are no approved quotes yet for this movie.