Penthouse North
(2013)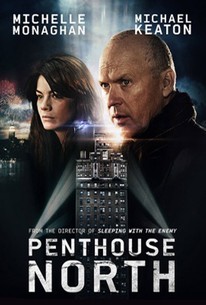 AUDIENCE SCORE
Critic Consensus: No consensus yet.
Movie Info
A photojournalist who was blinded in Iraq (Michelle Monaghan) lives quietly in a New York penthouse until her very existence is imperiled by a terrifying criminal (Michael Keaton) who invades her apartment demanding the whereabouts of a stash of jewelry in this mystery thriller.
Critic Reviews for Penthouse North
All Critics (1) | Top Critics (1) | Fresh (0) | Rotten (1)
In a simple plot with few frills - a woman, a flat and a robbery - details count, at least to flirt a bit within a story that starts off well, but soon fizzles out.
Audience Reviews for Penthouse North
Not great, but it has some suspense.
Erin Collins
Super Reviewer
This really isn't a very good movie at all. There's something so low-rent about this movie, something like you'd catch this on your local channel at 3 am on a Sunday because that was all they could afford. And, apparently, it turns out that, in fact, this movie premiered on the Lifetime Channel about 3 weeks ago, approximately. Do I have to say ANYTHING else other than that? Of course, that's not to say that the fact that it aired on Lifetime means instantly makes it a shitty movie, I'm sure Lifetime has aired some decent movies in the past. But it really doesn't do this film any favors. Perhaps a reason for why it was aired on TV rather than released in theaters or direct-to-dvd is the fact that I don't think this movie would've made anyone much money. There's no way you can promote this movie to where you can make it look interesting enough for people to want to pay to see it, there's just no way. Horror films will ALWAYS have an audience, there's an audience for low-budget horror out there. So even if the film looks like crap, at least you're guaranteed some unintentional laughter. I don't think the mystery/suspense, though close to the horror realm, shares that same dedicated audience. So it was probably a very smart idea to make this a TV movie rather than run the risk of producing thousands of DVDs, costing a lot of money to produce, that would go directly to the $5 movie bin of your local gas station that you'd make release it as a TV movie and get some money from the ad time that sponsors would buy. But, I digress, this movie is just no good at all as I mentioned. It's certainly an easy watch as it's only like 80 minutes long, but the ineptitude this film shows at actually creating decent tension or interesting characters will leave you scratching your head as to who thought that making this movie would be a good idea in the first place. The film's events wouldn't take place if the characters weren't such idiots. I think I'd be willing to forgive them the idiocy of their characters if at least they were interesting, but we can only be so lucky right? First things first, and this is the most egregious of these examples, is the fact that Chad, knowing that he needs Ryan alive in order to find out where the diamond and the money is, goes ahead and kills the fucker. He kills the guy who knows where the shit he's looking for is and then starts to interrogate Sara, who didn't know anything about Ryan's past life, to figure out where the shit is. This guy is a dumbass. They do explain it away later by saying that Ryan came at Chad so that's why he had to kill him, but I really think that this guy could've incapacitated him if he really wanted to. Secondly, there's the fact that Sara, since becoming blind, has seen some of her senses heightened...like she can figure out from smell that someone's in the room. This is fine and dandy, except when Sara comes home exactly after Ryan is killed, and Chad is in the house with her, she isn't able to smell him...at all. Despite the fact that the guy is super close to her, she's somehow not able to pick up on the scent. Yet, later in the movie, she's able to figure out that the guys are still there. How is she able to do this, you ask? Well, she knew they were there because she picked up their scent. Maybe she had a runny nose or something and she couldn't breathe properly. Yea, that was probably it. There's also this hilarious scene where Chad, when Sara locks herself into the room, breaks through the window to her room by throwing himself through it. He does this in spite of the fact that he grabbed a chair to break the window. It was super stupid, but definitely funny. There's just this low-rent feel and look to the film that leaves such a poor taste in your mouth. There are movies where they don't have a lot of money for the actual filming, but they have a solid script, so that, despite the obvious technical limitations, you can get something out of the movie thanks to its strong script. The low-budget feel for this movie went across all aspects of it. The script isn't any good and it looks like garbage. I guess you could say the acting is decent, but it barely gets by. The cast didn't feel inspired to be there, this was just a paycheck to them. I don't blame the film's problems on the cast, they're the least bad part about this film, but they didn't do anything for me at all. So you have a poorly written script that doesn't know how to build tension, poor direction and an uninspired cast. What do you get when you add all that up? A Lifetime TV movie, that's what you get.
Jesse Ortega
Super Reviewer
A not very thrilling thriller, unconvincing blind woman act y Michelle Monaghan. Are there no blind actresses? Keaton just looks and acts terrible.
Stuart Brooks
Super Reviewer
Penthouse North Quotes
There are no approved quotes yet for this movie.