Penitentiary
(1980)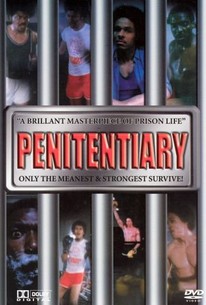 AUDIENCE SCORE
Critic Consensus: No consensus yet.
Movie Info
An innocent man must fight to survive when he's wrongfully imprisoned in this gritty urban drama. Martel Gordone (Leon Isaac Kennedy), called Too Sweet by his friends because he loves candy, is hitchhiking through the California desert when he's picked up by Linda (Hazel Spears), a prostitute. When Too Sweet and Linda stop at a roadside diner, they're harassed by a pack of bikers; a fist-fight breaks out, and one of the bikers winds up dead. Too Sweet is charged with murder, and convicted despite his innocence; he's shipped off to a run-down prison where Jesse Amos (Donovan Womack), one of the prisoners, lords it over the other inmates. Too Sweet ends up sharing a cell with Half Dead (Badja Djola), a violent lunatic who is one of Jesse's musclemen. Too Sweet refuses to buckle under to the intimidation dished out by Half Dead and his cronies, even after seeing how they've "turned out" Eugene (Thommy Pollard), another new fish who has become Jesse's sexual slave. Forced to defend himself even though he hates violence, Too Sweet displays a genuine talent for fighting, and is persuaded to take part in the prison boxing tournament, where he could win a night with a woman or even his freedom. However, Too Sweet sees the deck may be stacked against him when he finds out his opponent is the monstrous Half Dead. Shot when writer and director Jamaa Fanaka was still a student at UCLA, Penitentiary was the first starring vehicle for former disc jockey and future evangelist Leon Isaac Kennedy. ~ Mark Deming, Rovi
Critic Reviews for Penitentiary
There are no critic reviews yet for Penitentiary. Keep checking Rotten Tomatoes for updates!
Audience Reviews for Penitentiary
As a second wave of blaxploitation flicks that emerge out of the 1970's,the movie Penitentiary is still bedeviled by the uncomfortable contradictions of its macho forebearers,which made it a huge boxoffice hit when it was released in 1979. It's basically the servicable yarn of a young stranger on a bum rap,sentenced to an institutional hell-hole,and eventually bucking the terror regime with two righteous fists. And daubed onto the screen with the vitality of all around excess,teetering craziliy between heavy amounts of gore,rough language and all outright farce. But its assumptions for the better of its sake,either worked beyond the comprehendsion of some of its scenes which were very honest and sometimes brutal. This was a grand film that looked into the life of a penal institional system as seen through the eyes of his character,played by Leon Issac Kennedy. Another example of black cinema that was still standing at the end of the decade with some of the most replusive stereotyping ever imagine while the audience cheers on the victor who must fight in a system to stay alive at all costs. Done on a low budget,it was consciousness. A sequel followed in 1982 with Leon Issac Kennedy reprising the role. Another sequel followed in 1987 with Leon Issac Kennedy again reprising the role that made him successful in the first two installments.
Mister Caple
Super Reviewer
Penitentiary Quotes
There are no approved quotes yet for this movie.