Peep World
(2011)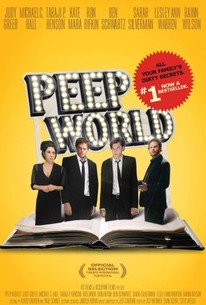 Movie Info
What happens to a rich, neurotic family when one of their own writes a tell-all exposing their dirty secrets? The Meyerwitz family is about to find out. And the timing couldn't be more hilariously awful. As the Meyerwitz clan prepares for the 70th birthday of nasty family patriarch HENRY (Ron Rifkin), PEEP WORLD, the expose written by youngest son NATHAN (Ben Schwartz) has gone red hot, making a mess of all of their lives. JACK (Michael C. Hall), the oldest son, is failing in his career and now has to bend over backwards to convince his wife LAURA (Judy Greer) that certain, ahem, salacious events in Nathan's book weren't really committed by him. Sister CHERI (Sarah Silverman), a drama queen and struggling actress, can see the PEEP WORLD movie set from her window, and grows increasingly enraged watching a more successful actress play a horribly unflattering version of her. Her solution: sue her younger brother for libel. Meanwhile, black sheep JOEL (Rainn Wilson), a disaster in slow-motion, plots to turn his life around at his family's expense, and MARILYN (Lesley Ann Warren), the children's mother, long-divorced from Henry, still carries a torch for her ex, one that's only inflamed further by the revelations in PEEP WORLD. For his part, the now-famous Nathan cluelessly wonders what the fuss is all about and basks in his success much to the annoyance of all around him. Over the course of 24 hours, this group of likable and unlikable misfits will summon their courage to come together for the "family dinner" they'll never forget. -- (C) IFC Films
Critic Reviews for Peep World
Audience Reviews for Peep World
When an author writes an expose about his dysfunctional family, the annual birthday get-together erupts. I liked the premise for this film; it's an opportunity to say something about art, authorship, and familial relationships. But instead of being a round character, at one point, the author has to fuck away a surgically induced hard-on. Each of the characters is given his/her cliched identity, a mold that amounts to a mere type. They're all boring people, and none of the situations is a particularly compelling, identifiable conflict. One brother is pursued by loan sharks, one goes to a peep house, and a sister doesn't like the eponymous novel -- boring, boringer, and boringest. The worst part of the film is that all the lead-up amounts to a climactic scene that is anything but a climax. A bunch of people scream at each other. Ho hum. Overall, this film could have been interesting if the scrapped almost everything in the script.
Jim Hunter
Super Reviewer
Quirk is my bread and butter. Almost always I side with these critically flawed comedies, because I like the misfit, the outcast, the central character having the mouth of a sailor when they're a ten year old blonde WASP or have an obsession with bees. What could have been a phenomenal, if not clinically brutal portrayal of a waylaid family of misfits comes off as a tepid interpretation of other films' Wikipedia pages. The cast, who all have embodied the kind of weird, disjointed characters that this film is made of, are given very little to use in order to further their storylines along. The entire film is based on the fact that one of four children writes a work of fiction based on his family's dysfunction. The fact that everyone hates each other right off the bat and tells each other on a regular basis could have made for some vicious attacks, a far more eccentric patriarch, and an interconnected obscurity with the rest of the world. There's no wit or sharp dialogue, nothing that comes off as edgy or the definition of fun. Besides that this has been done a thousand times before, and without true oddballs this is just another family drama. They're supposed to have another layer based on the tell-all book written by a brother, showing each sibling's problems and pitfalls and shining a light on the faults that are shocking and obscene; yet we go through the entire film and don't learn anything about them as people. The only thing I could relate to was Rainn Wilson's character. He still holds the reigns as a black sheep, and gives a truly heartbreaking speech near the end expressing the hurt of his brother's exploitation. Sadly his character, the best of the bunch, is severely underwritten. Hall has the most human of all the roles, and the actions he goes through to be in control are wrenching, but the dinner scene felt off track from what was previously shown of him. Instead of fleshing out the main character they used him to create that sucky ending. Oh, and the entire film has voice over narration by Lewis Black, who I'm guessing is only associated with this because it's comedy, and they briefly reveal the family is Jewish. Why? I suspect that's the quirkiest thing they could wrangle, which just makes me depressed. Watch it as a drama, and at least you'll understand some key aspect of family dysfunction, but you won't actually care at the end.
Spencer S.
Super Reviewer
A well written film in terms of structure however there wasn't much going on. It was quite bland and predictable. A good cast seems wasted.
Sophie Burgess
Super Reviewer
Peep World Quotes
There are no approved quotes yet for this movie.