Pee-wee's Big Holiday
(2016)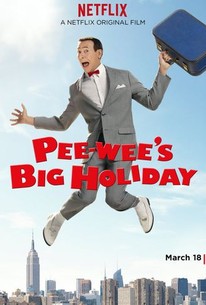 Pee-wee's Big Holiday Videos
Pee-wee's Big Holiday Photos
Movie Info
Pee-wee meets a stranger who inspires him to take his first vacation in this story about friendship and fate.
News & Interviews for Pee-wee's Big Holiday
Critic Reviews for Pee-wee's Big Holiday
Audience Reviews for Pee-wee's Big Holiday
½
Social media allows people to feel connected to an old friend without actually interacting with them and realizing that your only true connection to them stems from 20 or 30 years ago. Audiences will find themselves in a similar situation with Pee-wee's Big Holiday, a well-intentioned but joke-lite continuation of Reubens' now-iconic character, Pee-wee Herman. Seeing the perpetual boy-child again with all of his zaniness intact feels like a warm greeting at the outset. Soon however, without much of a story to go on, the movie relies on gags...of which, this Judd-Apatow-produced comedy comes up a bit short. Still, there are amble points to enjoy about the latest adventures of Pee-wee even if this go-round isn't an out-and-out holiday. In this PG-rated comedy (available for streaming on Netfliix), a fateful meeting with a mysterious stranger (Manganiello) inspires Pee-wee Herman (Reubens) to take his first-ever holiday in this epic story of friendship and destiny. Still spot-on with the character, Reubens delights in every scene and his co-writer, Paul Rust (Netflix's Love), helps to keep the adventure feeling authentically Pee-weed. Part of you wishes that your last Herman memory remained his Big Adventure, which is nostalgically kept under the Big Top in the Playhouse in your mind...part of you, mind. Your other parts hold hope that, having nailed the character and tone of a beloved 30-year old franchise here, the next Big venture might employ more laughs both wacky and, sometimes, appropriately acerbic. Bottom line: Dearth Takes a Holiday
Pee-wee's Big Holiday is certainly similar to the 1985 classic, but it's so much fun seeing Paul Reubens playing the great character again that you get over it quickly. The jokes are ridiculous but lighthearted and fun. I laughed and had a big smile on my face throughout the film. So glad Netflix decided to give us back a little Pee-wee.
Bradley Wright
Super Reviewer
Paul Reubens returns to kick a dead horse yet again. Passed-by by his friends and feeling bored he decides to road trip New York City. Along the way: kooky kharacters aplenty. Only for the youngest of your young.
Kevin M. Williams
Super Reviewer
Pee-wee's Big Holiday Quotes
There are no approved quotes yet for this movie.