Peacock
(2010)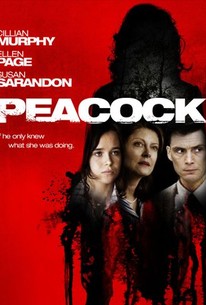 AUDIENCE SCORE
Critic Consensus: No consensus yet.
Movie Info
Peacock follows the story of John Skillpa, a quiet bank clerk living in Nebraska, who appears to have a perfectly ordinary life. However, John has a secret which is threatening to be discovered. Suffering from multiple personality disorder, John disguises one half of his personality under the character of "Emma", a woman who cooks and cleans for him every morning. One day, a freight train derails and crashes into his garden, unleashing a whirlwind of events as John's alter ego is discovered and he must invent a story involving a secret marriage in order to maintain his secret. Young, single mother, Maggie holds the key to John's past, and sparks a battle between the two personalities as Emma begins to take over John's life completely.
Critic Reviews for Peacock
Audience Reviews for Peacock
Review TBC, although this has been one of the most infuriating endings I've ever had to endure.
Bannan instant enigma- just add water
Super Reviewer
½
It's a shame that this film was a direct-to-DVD relase, becaue, it really deserves a lot more recognition. This small, quiet indie psychological drama/thriller tells the story of a quiet man who prefers to keep to himself. When a train derailment happens in his backyard, his world is forever changed once some deep secrets start to reveal themselves to the public. The performances, writing, art/direction. set design, and camera work are all fantastic. Not a whole lot really happens in this film, yet there is a pervasive mood of dread, uneasiness and tension throughout. This is a rather creepy film, made all the more potent by the fact that everything about the main character seems (key word) to be so plain and unremarkable. Cillian Murphy has a challenging job, and he pulls it off well. It is a really remarkable, haunting performance. Ellen Page (complete with a fun little accent) is also quite good in a nicely nuanced and underplayed role as a troubled young mother who can shed some light into the life of Murphy's John. The rest of the cast, including veterans Susan Sarandon, Keith Carradine, as well as Bill Pullman and Josh Lucas, are also terrific. The less you really know about this film, the better (probably). Part of the joy of watching it, and getting the full impact, is letting the plot unfold without really knowing what to expect, or knowing what happens before it does. Again, give this one a chance. It really deserves it.
Chris Weber
Super Reviewer
I enjoyed this film for what it was. It had a very Hitchcock vibe, and Cillian Murphy did a great job. The movie built some suspense very well, and certainly had a creepy vibe throughout. However, it is one of those films that you wished went a different direction with its story. Granted, the toil between the two personalities (Emma & John) in one person was intriguing, but I couldn't help but feel like it would have been considerably better if it had a little more "meat" to it. The acting, and intriguing character study, saved what's other-wise a mediocre film.
Cynthia S.
Super Reviewer
Peacock Quotes
There are no approved quotes yet for this movie.