PCU
(1993)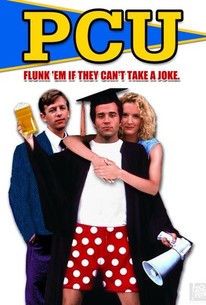 Movie Info
Actor Hart Bochner turns director in the satirical Animal House update P.C.U.. Per the title, the film takes place on the campus of a University where, thanks to militant dean Jessica Walter, Political Correctness has reached ridiculous proportions. A group of dorm-room cutups, wallowing in their un correctness, declares war on the uptight student activists who call the shots. Saturday Night Live's David Spade is among the leading players; while he's funnier here than in his costarring stints in Chris Farley's films, he doesn't have much to work with. The subject matter covered in P.C.U. has already been tackled, with far funnier results, on Bill Maher's cable-TV weekly Politically Incorrect.
Audience Reviews for PCU
This movie is often described as the Animal House of the 90s. I suppose that's true, it is very 90s, but unlike animal house it isn't very funny. This is going to be an extremely dated movie in the future, and just get less funny as time goes by. If you'd like to remember the 90s, rent this movie, if not, don't see it.
½
The same silliness as Animal House and many other versions of the story. But pleasant enough.
This is one of the most best college movies ever. Jeremy Piven is grat in this. And this is just a wonderful wonderful fun movie. I loved it.
John Manard
Super Reviewer
PCU Quotes
There are no approved quotes yet for this movie.