Payback: Straight Up
(2006)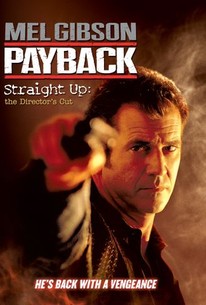 AUDIENCE SCORE
Critic Consensus: No consensus yet.
Movie Info
Seven years after seeing his original vision butchered under studio interference as well as his star's, director Brian Helgeland finally was given the chance to piece together his director's cut under the name Payback: Straight Up. Along with reinstating the original third act, this version represents a return to the gritty world of '70s filmmaking that was the groundwork of the production up until Paramount got cold feet and ordered extensive reshoots. The story centers on Porter (Mel Gibson), a thief that is pulled into a heist by his old friend, Val (Brian De Palma regular Gregg Henry), who plans a double cross with Porter's wife, Lynn (Deborah Kara Unger) after showing her a photo of her husband in the arms of another girl (Maria Bello). As they're stealing $130,000 in laundered drug money from Chinese Triads, Lynn shoots Porter in the back and speeds away with Val and money in tow. What they didn't know is that Porter would come back looking for his cut, which has been used to pay off Val's mob debts so he could return to "The Syndicate." Helgeland, the screenwriter for L.A. Confidential and Mystic River, made his directing debut with this adaptation of the novel The Hunter by Donald E. Westlake writing under the pseudonym, Richard Stark. The same novel served as the basis for John Boorman's Point Blank starring Lee Marvin. This version excises Kris Kristofferson's performance entirely and features a new score by Scott Stambler.
Critic Reviews for Payback: Straight Up
There are no critic reviews yet for Payback: Straight Up. Keep checking Rotten Tomatoes for updates!
Audience Reviews for Payback: Straight Up
Don't get me wrong, I like this director's cut of Payback a lot. However, I think what Mel Gibson did with the theatrical version is so much better. This is much more of a traditional Noir plot with a moralistic outcome. That's not necessarily bad, it just doesn't work as well in a modern setting. It's not enough that we're seeing the same kind of movie from the 40s, nostalgia only goes so far. What still works here is the amazing visual style; I think it actually is betting in this version. The soundtrack is also a lot more fitting for the tone they were trying to achieve. The plot, characters and overall atmosphere is undoubtedly cool and I feel like if someone hadn't seen the other cut, they'd be extremely impressed. This movie as it is doesn't have a third act, it's that simple. That's kind've interesting and common when you consider the genre it's fitting into, but it just feels like something is missing. I stand by Mel Gibson's decision 100% to add more to the story and make it more than just a cool little neo-noir.
Conner Rainwater
Super Reviewer
½
Remaking a classic is never a good idea at the best of times, but when Brian Helgeland's remake of Point Blank ended up being shelved, heavily re-edited, rewritten (by Terry Hayes) and reshot by another director (production designer John Myhre) to make it more 'accessible' to an audience after committing the triple sins of having a hero who doesn't get the money and doesn't get the girl and - worst of all - having a character kill the dog, it must have seemed like an out and out suicidal one. So much of the film's last third was dumped that half the footage in the film's trailer (and even its poster image) were nowhere to be found in the finished film itself by the time it made it to the theatres. Somehow the version of Payback that did get released turned out to be both surprisingly good and more surprisingly commercially successful, but now that, eight years later, Helgeland's finally had the chance to restore his version for DVD (as Payback - Straight Up), the only response to the theatrical version's tag-line 'No more Mr Nice Guy' is "Oh yeah?" This time Mel Gibson's Porter doesn't have a voice over to excuse his actions, and they're not diluted by focus groups either. So he steals from a homeless guy? So what, it's not as if the guy is faking a disability in this cut, he just wants his money. So he asks a barman for information by breaking his hand? So what, he doesn't have time for subtlety, he just wants his money. So his wife O.D.s after he beats her up? So what, she shot him anyway, he just wants his money. So he kills a handcuffed heavy after disarming him? So what, he didn't like the guy, he just wants his money. In fact, Porter doesn't care what happens to anybody as long as he gets his money. The only thing that makes him the hero is that the guy who has his money is even worse than he is. Unlike most Director's Cuts, this really is a very different version of the film: while the first hour has more or less the same structure as the theatrical version, the last third is a significant departure. Running some ten minutes less than the theatrical version, there's no convoluted kidnapping subplot, no Kris Kristofferson character in this version, only a couple of shots of prominently-billed John Glover at the end, though sadly no Angie Dickinson either: although originally providing a link with John Boorman's film as the voice of the syndicate boss in Helgeland's first cut, for some reason she's here replaced by Sally Kellerman on speaker phone. Instead we get a much better realised and rather more organic finale at a transit station that brings the film to a more convincing conclusion and is more attuned to the character's strengths and weaknesses than the kind of plot contrivances that gave the theatrical version its more explosive resolution. Oh yes, and everything doesn't look blue anymore. There are differences from the first cut that Helgeland submitted that was floating around as a bootleg for years - the fire truck diversion to get into the outfit hotel and the infamous elevator scene where Porter blinds a henchman are missing, while this time round the money doesn't end up in the hands of a homeless guy - but while it's a shame these aren't included on the DVD, it's a leaner, meaner movie, playing it down and dirty (none of Boorman's "Is he really dead?" ambiguity here) and on its own terms. Is it a great film or a lost masterpiece? No, just a good movie with a heart of darkness underneath the studio sheen, but that's good enough for me.
Cassandra Maples
Super Reviewer
Payback: Straight Up Quotes
There are no approved quotes yet for this movie.