Pavilion of Women
(2001)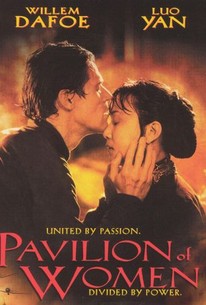 TOMATOMETER
AUDIENCE SCORE
Critic Consensus: Generating more suds than a soap opera, this adaptation of Pearl Buck's novel sinks under the weight of excess melodrama, stilted performances, and cheesy dialogue.
Movie Info
A woman defies convention to find happiness, only to discover the costs are greater than she imagined in this drama based on the novel by Pearl S. Buck. In 1938, with Communist rebels on the rise in China and Imperial Japan intent upon expanding its rule into Manchuria and China, Lord Wu (Shek Sau) is a feudal leader who rules both his community and his family with an iron fist. But his wife, Madame Wu (Luo Yan), has just turned 40 and has grown weary of her husband's dominance. With her son Fengmo (John Cho) now 18 and engaged to be married, Madame Wu sees her responsibilities to her family all but complete, so in violation of traditional custom, she arranges for Chiuming (Yi Ding), a peasant girl just turned 18, to be brought into the household as Lord Wu's concubine, freeing her from sexual servitude to her husband. However, Chiuming's lack of sexual experience proves problematic for herself as well as Lord Wu, whose erotic tastes run to the unconventional. Meanwhile, Madame Wu makes the acquaintance of Andre (Willem Dafoe), an American missionary and doctor who is helping Fengmo with his studies; Andre is kind, compassionate, and intelligent, and he makes a tremendous impression on Madame Wu, who soon finds herself falling for the mysterious American as circumstances cause both her household and China to explode into chaos. Pavilion of Women was the first co-production between an American studio, Universal Pictures, and Beijing Film Studio of China; the film was shot on location in China, but with a primarily English-speaking cast.
Critic Reviews for Pavilion of Women
Audience Reviews for Pavilion of Women
A beautiful movie! Love John Cho in this!! Willem Dafoe gives an interesting performance as a foreigner in love with a wife from a noble Chinese family. I've seen this movie several times over, and I can never get bored of it.
Pavilion of Women Quotes
There are no approved quotes yet for this movie.