Path to War
(2002)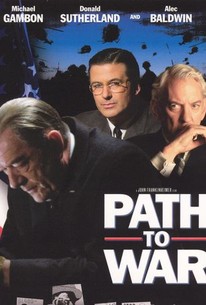 AUDIENCE SCORE
Critic Consensus: No consensus yet.
Movie Info
Inspired by author Robert A. Caro's massive biography of President Lyndon Baines Johnson, the made-for-cable Path to War retraces the world-shaking events occurring between LBJ's jubilant inaugural in 1965 and his tired, dispirited decision not to seek another presidential term in 1968. At the crux of these tumultuous three years is the war in Vietnam, which forces Johnson (here played by Michael Gambon) to shunt his proposed "Great Society" to the back burner. Though famous in political circles as a wrangler and compromiser, LBJ cannot seem to do anything right in pursuing the war; nor are his chief advisors, the hawkish Robert McNamara (Alec Baldwin) and the dove-ish Clark Clifford (Donald Sutherland), able to forge a permanent policy agreement. As Clifford warns Johnson that "escalation will ruin you, and all the great good you want to do," McNamara presses for a continuation of the war lest America lose face and Vietnam fall to the Communists. The story unfolds with the inexorability of a Shakespearean tragedy, with Johnson as a modern-day Macbeth, Richard III, and King Lear rolled into one. Of interest to non-history buffs is the appearance of two original cast members of the 1969 film M*A*S*H: Donald Sutherland as Clark Clifford and Tom Skerritt as William Westmoreland. Directed by political-movie veteran John Frankenheimer, Path to War made its HBO cable network debut on May 18, 2002.
Critic Reviews for Path to War
All Critics (3) | Top Critics (2) | Fresh (3) | Rotten (0) | DVD (1)
It's LBJ as King Lear instead of Big Bully, tendentious but absorbing, with Baldwin the pleasant surprise.
Directed confidently by John Frankenheimer, Path to War is a powerful expression of mourning.
The well-produced political drama plays like the TV movie it is.
Audience Reviews for Path to War
A thorough and effective examination of the Johnson presidency, focusing on the escalating involvement in Vietnam that would eventually undue his administration. Very well written, the film always feels realistic, often re-creating scenes with verbatim historical transcripts. Michael Gambon's Lyndon Johnson is uncanny, he captures the overbearing, homespun demeanor he was known for, while also replicating his mannerisms perfectly. Overall, I would argue the film was far too kind to Johnson, conveying him as more of a victim of circumstance, who found himself in over his head and refusing to cut his losses, and whose otherwise lofty achievements (the mythical "Great Society" programs of dubious effectiveness) go unnoticed. Still, it was very effective in showing a conflicted man, reminding me almost of Oliver Stone's Nixon. Similarly, Alec Baldwin's McNamara was surprisingly authentic, showing a brilliant, though naive, man of cool demeanor. The running time is a bit bloated, but well worth it for history/political buffs. 4/5 Stars
Jeffrey Meyers
Super Reviewer
Path to War Quotes
There are no approved quotes yet for this movie.