Paterson
(2016)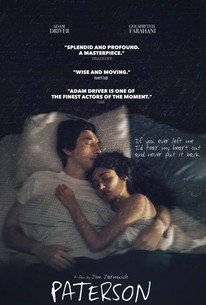 TOMATOMETER
AUDIENCE SCORE
Critic Consensus: Paterson adds another refreshingly unvarnished entry to Jim Jarmusch's filmography -- and another outstanding performance to Adam Driver's career credits.
Movie Info
Paterson is a bus driver in the city of Paterson, New Jersey--they share the name. Every day, Paterson adheres to a simple routine: he drives his daily route, observing the city as it drifts across his windshield and overhearing fragments of conversation swirling around him; he writes poetry into a notebook; he walks his dog; he stops in a bar and drinks exactly one beer; he goes home to his wife, Laura. By contrast, Laura's world is ever changing. New dreams come to her almost daily. Paterson loves Laura and she loves him. He supports her newfound ambitions; she champions his gift for poetry. The film quietly observes the triumphs and defeats of daily life, along with the poetry evident in its smallest details.
News & Interviews for Paterson
Critic Reviews for Paterson
Audience Reviews for Paterson
Adam Driver delivers a sensitive performance in this intelligent character study that shows us a week in the life of a man living a melancholy existence, and it is great to see how Jarmusch uses black-and-white patterns to underline the character's ordinary routine.
Carlos Magalhães
Super Reviewer
½
Over the course of a week we meet Paterson (Adam Driver), a bus driver in Paterson, NJ, who is also a poet, and his live-in girlfriend, Laura (Golshifteh Farahani). This beautifully filmed gem celebrates an everyman who quietly observes life and comments on it through his writing. Laura, meanwhile, seems to be a creative soul herself, designing her own clothes, decorating their home, learning to play guitar, baking cupcakes, and all done in a black and white color scheme. Adam Driver seemed perfectly cast as a man who is not aware of his talent, but feels driven to write. Ms Farahani is stunningly beautiful and lit up avery scene she was in. I definitely want to see more of her work. There are some heavy themes (race relations, marital difficulties, and loss) addressed, but delivered with a light, sometimes humorous, touch, a Jarmusch specialty. The pace is slow, almost languid, but if one has the patience, this film touches deeply.
Mark Abell
Super Reviewer
Using the word profound when speaking about a film is almost too complimentary. While no film is perfect, five star ratings are given out regardless. In the endless age of blockbuster films revolving around big explosions or superheroes fighting each other, it's always nice to have an engaging independent film that makes you think about life. Not only did Paterson send my mind through a loop during my viewing, but I was genuinely attached to everything that was going on and this film really does slap you in the face with how simple your life is, without even realizing it. This is one of my favourite films of 2016 and this is why it comes highly recommended from me. Films like this can be discussed for days, as their subject matter is much more than meets the eye. Following a man named Paterson, from a town called Paterson, who drives the 23 Paterson bus from Monday to Friday, who comes home from work, talks about his day with his wife Laura, eats dinner, walks his dog to the bar where he has one beer every night before coming home to bed, it seems as though it may become repetitive; That is precisely the point. He is an aspiring poet who writes about his life experiences, which in turns reflects the entire film as a whole. The entire film itself is one big poem that can't be fully understood until the very end. Not to give anything away, but I recommend being on the lookout for doubles of everything. From a very simple conversation about wanting to have twins, had by Paterson and Laura in the first few minutes of the film, twins are seen quite often throughout. It seems as though there is a pattern showcased in some capacity in almost every single frame of this film. Whether it's present in Laura's art or simply a repeat of an event earlier in the week. There was so much attention to detail, whether it was the focus on how simple life can be, how the set designer composed every set, or how a few words exchanged between two unlikely people could change the course of the film. While I must admit that this film floored me from beginning to end, it really isn't for everyone. Film lovers and casual moviegoers with a very open mind will be the ones who truly love Paterson. Due to the fact that it has a very bizarre narrative and almost every time he runs into someone of interest, they happen to be a twin, it may just be weird and off-putting for some viewers who weren't expecting something this though-provoking. As long as you know there is a specific reason behind everything being showcased, in that it's meant to rhyme, I truly believe that you may find Paterson to be an endearing as I did. Writer/director Jim Jarmusch had a very specific vision when writing and translating his work to screen, and I believe he accomplished it beautifully. Overall, this is a finely crafted drama that is much more than it's premise suggests it to be. Filled with terrific performances by Adam Driver and Golshifteh Farahani, poetic direction by Jim Jarmusch, and a very though-provoking conclusion that will even have the most uninterested person thinking twice. Paterson makes you think if you are really doing enough with your life and also showcases that the reality of that doesn't have to be all that bad, because sometimes being invisible to everyone doesn't really matter. This film blew me away and when I look back on 2016, Paterson will easily be a film to remember. If you haven't heard about this film yet and have now been intrigued, I don't believe you will be disappointed.
Paterson Quotes
There are no approved quotes yet for this movie.