Park Row
(1952)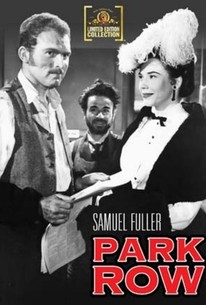 Movie Info
In the 1880s, a New York City newspaper editor struggles to keep his publication from being swallowed up by his former employer, who uses dirty tactics.
Critic Reviews for Park Row
Audience Reviews for Park Row
½
fuller's favorite of his own films. well, he was a newspaperman. it's not my favorite but it's interesting enough. gene evans is effective as always but the 'love story' didn't really work for me
Stella Dallas
Super Reviewer
In "Park Row," it is 1886 when Phineas Mitchell(Gene Evans), feeling that the newspaper that he works for, The Star, is responsible for the railroading of an innocent man to the gallows, makes an impromptu monument for him in Potters Field. In response, Charity Hackett(Mary Welch), the newspaper's publisher, fires him and Jeff Hudson(Dick Elliott). Before Mitchell can fully destroy his liver, Charles Leach(Forrest Taylor), a printer, wants him to put his money where Mitchell's mouth is by creating a newspaper, The Globe, that Mitchell has always dreamed of. Once Mitchell accepts the deal, The Globe's first story is Steve Brodie(George O'Hanlon) jumping off the Brooklyn Bridge. "Park Row" has a crackling story that is filled with historical detail, thus making it one of the most entertaining lectures you might ever see, however fictionalized the story. Samuel Fuller's rousing ode to the golden age of newspapers is set at a time when all it took to publish a newspaper was paper, some money and huge balls(or ovaries, as the case may be.). That's not to say that newspapers did not have responsibility to tell the truth, considering the power they had to shape public opinion, as Fuller ably demonstrates here. All of which is as relevant in 1952 when the movie was made when there were 1772 daily newspapers as it is today when newspapers are an endangered species but still no less important.
If Citizen Kane had a scrappy, not as well shot, but still frickin AWESOME, cousin, It would be Park Row. The film by it's own admission is a love letter to journalism and is well worth seeking out. Sam Fuller rules!
Ken Stachnik
Super Reviewer
Park Row Quotes
There are no approved quotes yet for this movie.