Paris When It Sizzles
(1964)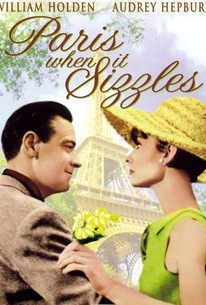 Paris When It Sizzles Photos
Movie Info
Set in the City of Light, this comedy centers on the attempts of a screenwriter (William Holden) who tries to convince his secretary (Audrey Hepburn), with whom he has fallen in love, that he will better be able to write about romance if he can act out his new scenes with her.
Critic Reviews for Paris When It Sizzles
Audience Reviews for Paris When It Sizzles
½
Seems I'm in the minority for liking this little gem. I have a feeling that since Hepburn said it was one of her least favorite films, people fail to look beyond that at what a clever little piece this is. Or it may take an appreciation of cinema itself. To me, this was way before its time. It makes fun of the system, writers, and actors. Some of the film is very stupid or silly, but that's the point. They are writing a BAD film, and as such, we see this bad film come to life. It's also a great spoof. Tony Curtis, in a very extended cameo plays himself. But himself as an actor in a supporting role. It's hard to describe the brilliance of this performance. From his initial entrance with the exaggerated mannerisms of a method actor, to his delivery of lines usually reserved for insignificant extras. It does become tedious in spots, and Holden and Hepburn's romance is just as forced and sudden as the one in their poorly written movie. See this if you are a Curtis fan, or love seeing actors lampoon themselves. I'm surprised to see so much post-modernism so early on in cinema.
Luke Baldock
Super Reviewer
Inconsequential piffle that wants to be a saucy souffle but is just a flat contrived trifle. Lovely locations and Audrey as a secretary who can afford to dress in Givenchy! can't make this nonsense sparkle. Guest cameos are totally wasted although Marlene Dietrich looks smashing. A fizzle.
Couldn't hold my attention for more than five minutes. I really tried with this one but I couldn't get through it.
Dannielle Albert
Super Reviewer
Paris When It Sizzles Quotes
There are no approved quotes yet for this movie.