Paper Towns
(2015)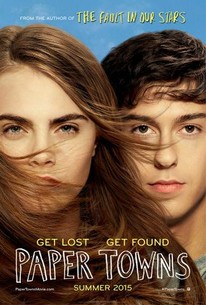 TOMATOMETER
AUDIENCE SCORE
Critic Consensus: Paper Towns isn't as deep or moving as it wants to be, yet it's still earnest, well-acted, and thoughtful enough to earn a place in the hearts of teen filmgoers of all ages.
Movie Info
Adapted from the bestselling novel by author John Green ("The Fault in Our Stars"), PAPER TOWNS is a coming-of-age story centering on Quentin and his enigmatic neighbor Margo, who loved mysteries so much she became one. After taking him on an all-night adventure through their hometown, Margo suddenly disappears--leaving behind cryptic clues for Quentin to decipher. The search leads Quentin and his quick-witted friends on an exhilarating adventure that is equal parts hilarious and moving. Ultimately, to track down Margo, Quentin must find a deeper understanding of true friendship--and true love. (C) Fox
News & Interviews for Paper Towns
Critic Reviews for Paper Towns
Audience Reviews for Paper Towns
I actually found this really ordinary. Coming of age boys story about three dorky teen males with the story focusing on two females - the dark soul who has run away to find herself and a shallow pretty girl who I'm sure is meant to be relatable, but she bored me with her trivial problems. Pissed off her best friend by dating the guy she liked and lost best friend and date to prom in one fell swoop. Boo hoo hoo. Maybe I'm just too old for this stuff. I read Fault in our stars and I thought it was amazing for a YA. Didn't love the movie though. Since then, I tried and failed to read a second book by this author, and now this dud film. I don't think these books and movies are for me...
Nicki Marie
Super Reviewer
½
This film is not nearly as deep as it thinks it is, and way more annoying than it thinks it isn't. The seemingly forced chemistry and buddy dialogue between the male leads is often cringeworthy, along with a lot of the moments that are supposed to be thought provoking, which end up ringing hollow. Add in the unrealistic plot devices and this movie frustrates on so many levels. Even though this film has its moments, as a whole I'm still not sure why I watched the entire thing.
Sanjay Rema
Super Reviewer
½
While films such as "The Spectacular Now" and "The Fault in Our Stars" really bring out the best in the indie-feeling young teen films, "Paper Towns" fails to do so. I was looking forward to viewing this film, but the story definitely misleads you in too many ways for you to really care. Aside from a few great character moments, this film is a bland-fest at best. After one fun night with a childhood friend (Margo Ross Spiegelman) that Quentin had, she leaves town without telling anyone where she is going. Leaving clues, her friends set out on a journey to find her, as Quentin is in love with her and wants to take her to prom. Along the way, we get to know Quentin and Margo's friends even more, which was a terrible thing, because by the end, I cared more about them than I did about them actually finding her. In the end, this film has a poor resolution, cliched writing, and a central story that is not interesting enough. I will say that there are some genuinely touching moments, but too few and far in between. "Paper Towns" is a let down for many reasons.
Paper Towns Quotes
There are no approved quotes yet for this movie.