Pane e Cioccolata (Bread and Chocolate)
(1974)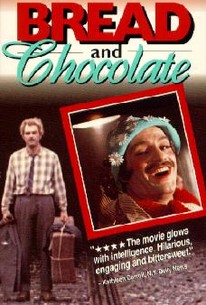 Pane e Cioccolata (Bread and Chocolate) Photos
Movie Info
A hard-working Sicilian heads for Switzerland in search of a better life in this gentle, sweet-sour Italian comedy. Despite the poor fellow's best efforts to fit in with his neighbors, he never quite seems to make it.
Critic Reviews for Pane e Cioccolata (Bread and Chocolate)
All Critics (5) | Fresh (5) | Rotten (0)
Bread and Chocolate provides a yeasty, semisweet couple of hours at the movies -- no mean accomplishment these days.
Odd, entertaining little film
July 30, 2002 | Rating: 4/5
Audience Reviews for Pane e Cioccolata (Bread and Chocolate)
I feel like I missed many cultural references and so I don't quite find it as funny as it's supposed to be.
Jason 123 D
Super Reviewer
From 1974 this Italian piece plays at first like several skits from the old Saturday Night Live or even (going further back) the Carol Burnett Show, but soon you realise these light seeming comic moments have a heart and a soul as we follow one immigrant's journey to belong in a land of wealth and promise. Better than even its own beginning ... which might be on purpose.
Kevin M. Williams
Super Reviewer
½
[font=Century Gothic]In "Bread and Chocolate", Nino(Nino Manfredi) is an Italian citizen, living and working as a waiter in the promised land of Switzerland. He is hopeful to send for his family and is competing for a permanent position at a restaurant with an immigrant from Turkey. Nino is trying so hard to keep his nose clean, that he delays in notifying the authorities about the body he discovers in the woods. However, he is summoned into a meeting with the police on a relatively minor matter of public urination... [/font] [font=Century Gothic][/font] [font=Century Gothic]"Bread and Chocolate" is a poignant and gentle comedy of manners about trying to succeed in a strange country and the conflict between making a better living there and the ensuing homesickness. While it does not have the impact of "Ali: Fear Eats the Soul"(which was made around the same time), this movie still has plenty to say on the subject of immigration and assimilation.[/font]
Pane e Cioccolata (Bread and Chocolate) Quotes
There are no approved quotes yet for this movie.