Pan
(2015)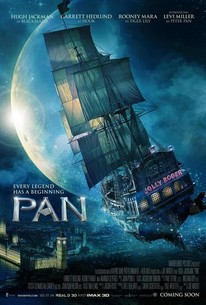 TOMATOMETER
AUDIENCE SCORE
Critic Consensus: Pan finds a few bursts of magic in its prequel treatment of classic characters, though not enough to offset the rushed plot and shrill, CGI-fueled action.
Movie Info
The story of an orphan who is spirited away to the magical Neverland. There, he finds both fun and dangers, and ultimately discovers his destiny -- to become the hero who will be forever known as Peter Pan.
News & Interviews for Pan
Audience Reviews for Pan
The prequel telling about Peter Pan's first steps in Neverland and his friendship with young Captain Hook looks mostly amazing. Its colorful almost theater-like sets, costumes and ships fit perfectly to Spielberg's Hook. There are plenty of fast, exciting action scenes and yet, the film doesn't manage to grab you by the collar. It's all fairly entertaining and easy on the eye but also a bit bland, mostly because the plot is not all that interesting. Still, kids should have a blast with this. It's just somewhat disappointing that the film does not end up explain Pan and Hook's rivalry, here they are still friends as it comes to an end.
Joe Wright's Pan sails in shallow waters. There isn't much meat on this 105 minute bone. The plot details are simplified, which is acceptable, but once the film leaves the first act, a lot is delivered. Combine that with the light explanations and the story becomes a bit of a mess. The visuals are bright and colorful; fitting for a PG movie, which this is. Some of it is a delight, while others come across as a bit much. The action pieces are fun and acceptable. The characters are hollow, leaving much more to be had, while the casting is hit and miss. Levi Miller gets it done from time to time. Rooney Mara is a delight to see, but falls way flat with her character. Hugh Jackman and Garret Hedlund are the life of the film, with the latter being somewhat questionable for James Hook. Pan has flying colors, but it doesn't pass with flying colors. It just sails on by.
Reminiscent of the Patton Oswalt bit concerning The Phantom Menace, often fans really need the "before" when it concerns the characters they love; did anyone really need to know what Peter and Hook were up to before they became mortal enemies? Pan attempts to tell the story before we know it about how Peter Pan became the character we know. It was originally planned for a summer 2015 release and was pushed back until the fall, ostensibly for more time to finish visual effects. the studio, Warner Brothers, pulled a similar move with Jupiter Ascending, and we know how that turned out. Peter (Levi Miller) is an orphan living in London during World War II. He and a few of his best parentless pals are abducted in the middle of the night by a group of pirates and their flying pirate ship. He's taken to Neverland to work in the mines belonging to Blackbeard (Hugh Jackman), who has an addiction to fairy dust. During a scuffle, Peter discovers he has the ability to fly, though he can't exactly master it. There has been a prophecy that The One would be able to fly and they would topple Blackbeard. Peter and another miner, James Hook (Garrett Hedlund), escape, finding their way into the land of the "natives," which includes Tigerlily (a miscast Rooney Mara). The "Pan" has been prophecized to help lead their people and discover the bridge into the world of the fairies, and Blackbeard won't stop until he finds the source of his pernicious pixie smack. Who exactly is Pan intended for or what story needed to be told prior to our introduction to the world of Neverland? The first act sets the stage for the miscalculated tonal mishmash that never truly settles: we jump from a cruel orphanage, with Peter comically plucky, to the horrors of the London bombing during the Blitz, to a bunch of pirates kidnapping the orphans (tacitly with the approval of the evil head nun running the orphanage), and from there we're whisked away across space to a mine of slave workers digging for pixie dust minerals who serenade their pirate slave lord with the lyrics to Nirvana's "Smells Like Teen Spirit" for... some reason. Is this a movie intended for younger children and families? Is it intended for teenagers? The tone veers wildly, sometimes within the same scene, going from serious and gritty to colorful and ridiculous. It's a campy experience that makes me wonder who exactly was supposed to enjoy an attempt to open the Peter Pan mythos, a world that is generally shallow. At no point does Pan justify its existence beyond a flimsy corporate attempt to take a familiar world and expand upon it for sweet franchise money. When you get down to the world of Neverland, at least as represented on film, what exactly is there? There are pirates, "natives," mermaids, and fairies, and that's about it. They all kind of exist in their own individual movie that fails to blend together, making the new groups of characters feel like little more than a new theme park attraction before moving on to the next autonomous ride. The fantasy figures themselves just aren't that interesting because there just isn't much to them beyond superficial descriptions. I suppose then that this would allow plenty of opportunity at world building to take these familiar staples and give them greater depth, and that's Pan's biggest missed opportunity. Far too often, the movie feels on Fantasy autopilot and what we're given is the old clichés of the Great Prophecy and the Chosen One meant to bridge worlds, etc. the events in the film do little to explain how Peter became Peter Pan, besides learn to fly. The problem with the prophecy trope is that it robs characters of agency in place of just accepting their capital-D destiny. You learn nothing new about Peter or Hook as people, and the nods to the greater Pan lore are annoying at best with how unsubtle and clunky they are. The movie doesn't even lay the groundwork to explain what conflicts will eventually drive Peter and Hook apart. Peter is a bland hero who is defined by the mystery of his absent mother and her own lineage. He's special because his mom was special and if he just believes hard enough then perhaps he can be even more special. It's pretty simplistic stuff. The references to the Pan lore always seem to stop the movie dead in its tracks. The relationship between Peter and Hook isn't explored in any capacity other then they appear to have both escaped together and been running side-by-side. It's a relationship not out of bonding but out of sheer proximity. The concluding lines are literally Peter saying, "We're going to be friends forever," and Hook replying, "What could possibly go wrong?" Oh my goodness is that one hacky groan-worthy wink to the future. Pan is made serviceably watchable from director Joe Wright and the campy performance of Jackman. Wright is a premier visual stylist in cinema though his artistic instincts can lead him to try and smash as many ill-fitting square pegs as he can into round holes, last evidenced by the 2012 Anna Karenina adaptation that made all the world a literal stage. The visuals are often splendid to behold and Wright has a wonderful feel for color hues. The final act feels climactic and visually alive in ways the movie doesn't even deserve, and Wright's vision, weird as it can be at points (Nirvana?) gives the movie an energy that keeps its worth an initial viewing. For a movie filed with fantasy realms, I enjoyed the scenes in the orphanage and with the wicked head nun the best (is she knowingly selling the boys into slavery on a magic pirate ship or is it just extreme negligence on her part?). The other aspect that at least held my attention was Jackman. In a movie filled with bland and the occasionally bizarre performance, Jackman offers an anchor to lean upon. It's not a good performance by normal circumstances but it provides a sense of life and feels in place. Hedlund (On the Road) is amazing in just how strange his rakish Harrison Ford-esque performance persists. Why didn't anyone tell him to stop? His speaking voice fascinated me and I spent the entire moving trying to figure what it sounded like and my best description is Heath Ledger's impression of Al Pacino. While not being a colossal disaster of artistic self-indulgence, Pan is a disappointing and mostly tedious experience because of its failure to capitalize on expanding upon the Neverland universe and exploring what should be formative experiences to central characters. If this was going to be a crazy artistic romp then it needed to be crazier. If you're going to have two brief anachronistic songs, then do more or at least draw in more influences from other timelines. If you're going to be a straight-laced pilot for a budding fantasy franchise, at least give us more flights of fancy and wonder. Make us fall in love with this world or at least some of the characters. Instead Pan uses the audience's pre-existing association with the characters and the environment in place of doing anything meaningful with a story. Peter becomes Peter Pan, so he doesn't have to be a character he just has to be the pre-Pan Peter. The same for Hook and Smee and Tigerlily and that's really the only characters worth mentioning until those Darling children come visit. I thought I was going to ridicule Pan with the glee I had taking apart Jupiter Ascending but I couldn't muster much effort. It didn't feel like the Pan filmmakers did either. Nate's Grade: C
Nate Zoebl
Super Reviewer
Pan Quotes
There are no approved quotes yet for this movie.