Painless
(2012)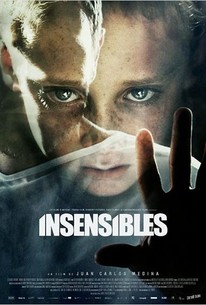 AUDIENCE SCORE
Critic Consensus: No consensus yet.
Movie Info
A successful neurosurgeon survives a deadly car crash, and learns that his family has dark secrets with roots in the Spanish Civil War after receiving a devastating diagnosis in this allegorical horror film from first-time director/co-writer Juan Carlos Medina (who penned the screenplay alongside Luiso Berdejo). Catalonia, Spain: 1931. As the first shots of the Spanish Civil War are fired, a group of young children unable to experience pain are locked away in a massive sanatorium in the mountains. Meanwhile, in the present day, celebrated neurosurgeon David Martel (Alex Brendemühl) and his expectant wife are out for a drive when a sudden accident turns his life upside down. His wife now dead and his premature son clinging to life, David walks away from the crash without serious injury, but learns that tests performed during his recover indicate he is suffering from lymphoma. Now the only thing that can save David's life is a bone marrow transplant from one of his parents. Now the deeper David digs into his family history, the more mysterious it seems to become. Only when he traces his lineage back to that hospital, where a frightened little boy grew into a real-life monster, will David finally begin to understand the long-buried secrets of his dark origins. But even then, it may still be too late to save him.
Critic Reviews for Painless
All Critics (2) | Fresh (1) | Rotten (1)
a breathless drama that interrogates the paradoxes of Spain's genetic and circumstantial heritage, and teases out the eternal struggle between freedom and repression, memory and oblivion.
What begins as compelling and enigmatic eventually loses its way to a more familiar horror film scenario.
Audience Reviews for Painless
I kinda liked this movie, but I really don't know what to make of it. It wasn't so much scary as gritty and tragic. It was two parallel stories; one about a man who recently lost his pregnant wife, gained a premature infant son and the knowledge that he's got a rare form of cancer. This sets him on a course to discover his roots. The other story centers on a group of children who can't feel pain, and their childhood of isolation during the Spanish Civil war. They are studied by a team of doctors and nurses in a modified prison, a location caught in the crossfire between the rebels and the fascists. I found this movie really really sad. The story was engaging and it's interesting seeing one character turn into what appears to be a slasher movie killer and still not be the villain of this picture. I'm not even sure what to make of the ending. Enh. This was fine, but lacked closure.
Emily Armstrong
Super Reviewer
Painless Quotes
There are no approved quotes yet for this movie.