Overlord
(1975)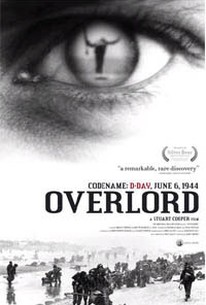 Movie Info
Quiet Tom leaves home and enters the world of war in the British Army with its anxious days of marching and training and waiting only to meet his quick and violent death on the beaches at Normandy on D-Day, June 6, 1944.
News & Interviews for Overlord
Critic Reviews for Overlord
Audience Reviews for Overlord
WWII through the eyes of an average, somewhat inept British foot soldier. Director Stuart Cooper effectively interlaces real war footage with scenes of the infantryman's more mundane daily routines. We get to know the character by vicariously sharing his hardship and even witnessing his frequent daydreams. Though released in 1975, this has an even older feel to it. A nice combination of post-war sensibility anchored deep in 1944's harsh reality. Definitely a film that warrants more discussion and deserves much more recognition.
Randy Tippy
Super Reviewer
½
An interesting premise. The period leading up to D-Day through the eyes of a young soldier, mixed with actual newsreel footage in between. I've always found anything to do with World World Two interesting so I thought the pieces of newsreel were fascinating. At times it's pretty hard to tell what is archive and what has been filmed especially for the film because they have done such a good job in recreating the style of the archive footage. The only downside is that I felt at times the narrative parts were a bit flat at times, with an unimpressive script and it took a while to get going. Considering the subject matter it's unsurprisingly not a feel good movie. Overall though, a very moving, and thought provoking film.
½
Clever interweaving of fictional story and archival footage which works better as a documentary than a drama.
Gordon Anderson
Super Reviewer
Overlord Quotes
There are no approved quotes yet for this movie.