Over the Top
(1987)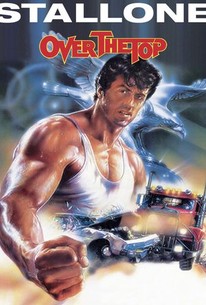 TOMATOMETER
AUDIENCE SCORE
Critic Consensus: The definitive film about arm-wrestling truck drivers fighting for custody of their children, Over the Top lives down to its title in the cheesiest of ways.
Movie Info
A caring truck driver, wants only to gain custody of his beloved son after his ex-wife becomes deathly ill. Unfortunately his wife's powerful and wealthy father refuses to let that happen. Also, the son is angry and disrespectful because he so seldom sees his dad. In order to prove himself to his boy, the trucker enters an arm-wrestling contest.
Critic Reviews for Over the Top
Audience Reviews for Over the Top
½
Over the Top is one of those low budget action flicks of the 80's that relies on recycled ideas from previous films. In this case, this is basically Rocky with Arm Wrestling. Menahem Golan directs this picture, and the result is a somewhat decent action flick that has plenty of flaws, but is worth seeing at least once. The film's title is appropriate for this film, as it is a very silly idea for a film. I had heard plenty of things from this film, but I was slightly disappointed with this film, and the end result is a picture that leaves a lot to be desired. Although entertaining, this is a film that is quite forgettable and is not one that is Sylvester Stallone's best. Luckily for Sly he has made some stellar films before this one, and he would recapture his magic with Rambo III. The film is amusing for what it is, and it plays out like a guilty pleasure. Is the film decent, yes it is, but is not a film that is worth re watching again and again. The film's biggest problem is the formulaic plot and predictable ending. Another factor is the acting, it is quite subpar for Stallone, and he is underwhelming here as well. The actor playing his kid is quite annoying and just ruined the overall enjoyment. Over the Top could have been a great film, and it did have some ideas that worked, but most of the time, the film fell a little flat and it simply just left a lot to be desired in terms of a quality film. I liked it, but it was decent and nothing ever great. The lazy script and lack of original ideas was what made this one not standout among Sly's other films.
Sly wins the hearts of everyone again as the underdog arm-wrestling champion Lincoln Hawk. It's more a father and son movie than anything else, but no one should downgrade it for being family friendly. It's so good at what it is and Sly gets to cause enough destruction even within the PG guidelines. It's very 80s and sort've in the same reign as Tango and Cash, which I'm a huge fan of also.
Conner Rainwater
Super Reviewer
½
Stallone's one of my favorite actors of all time, and this is a good movie, but not one of my favorites from the Stallone library. I prefer more action.
Jason Owens
Super Reviewer
Over the Top Quotes
There are no approved quotes yet for this movie.