Over the Edge
(1979)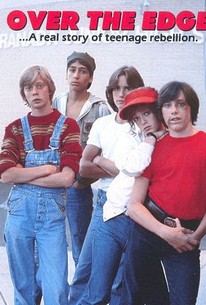 Movie Info
The protagonists of Over the Edge are the teen-aged offspring of the residents of a planned suburban community. This bland little town has been designed with conformity in mind, and with no thought of making the kids' lives worth living. Even worse, there is very little opportunity for any of the teens to grow "out" of the community and live elsewhere. Consequently, the kids rebel by drinking themselves sick, dealing in drugs, and indulging in deadly violence. Inasmuch as the local cops are predisposed to beat the teens into submission, the kids retaliate by directing their frustrations at the Law; the results are tragic, to be sure, but in no way predictable. Over the Edge struck as sensitive a nerve with young 1970s moviegoers as Rebel Without a Cause did with their 1950s forebears. Matt Dillon made his screen debut in Over the Edge, distinguishing himself in an ensemble cast that also includes Vincent Spano, Andy Romano, Ellen Geer, and Harry Northrup. The screenplay was written by Charles Haas and Tim Hunter; the soundtrack songs feature the Ramones.
Critic Reviews for Over the Edge
Audience Reviews for Over the Edge
½
greatest, realest teen movie ever
Adam Mahler
Super Reviewer
Over the Edge Quotes
There are no approved quotes yet for this movie.