The Outsiders
(1983)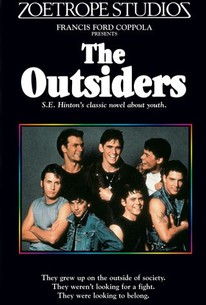 TOMATOMETER
AUDIENCE SCORE
Critic Consensus: The cracks continue to show in Coppola's directorial style, but The Outsiders remains a blustery, weird, and fun adaptation of the classic novel.
Movie Info
Teen rivalry in a small Southern town sets the stage for this dramatic interpretation of the novel by S.E. Hinton. Directed by Francis Ford Coppola, The Outsiders tells the story of the ongoing conflict between the Greasers and the Socs in rural Oklahoma. C. Thomas Howell stars as Ponyboy, the youngest of three orphaned boys who pal around with the local hoods known as the Greasers. When Ponyboy and his friend (Ralph Macchio) get into a deadly confrontation one night, the two go on the run from the cops, and they grow up quickly and soon realize the insignificance of their petty posturing. Matt Dillon stars as the tough-as-nails leader of their group and Patrick Swayze appears as Ponyboy's oldest brother. A host of other 1980s Brat Pack celebs fill out the cast. Dillon later appeared in another Coppola adaption of a Hinton book, Rumble Fish. ~ Bernadette McCallion, Rovi
Critic Reviews for The Outsiders
Audience Reviews for The Outsiders
"One of my favorite films and books of all time. The book is one of the reasons I fell in love with reading. I remember watching this in class and everyone, including myself, were in tears. The movie and these actor's really brought the story to life in a way you wouldn't have gotten from the book. I thought they all fit the characters so well. Matt Dillon was my favorite. Him and Patrick Swayze. The cast is one the most talented group of guys of that time and some are still hitting it big on screen. It still shocks me that there are still people out there who haven't seen the movie. So if you get the chance, do so. It's one that I will always love."
♥˩ƳИИ ƜѲѲƉƧ♥
Super Reviewer
After "One From The Heart" in 1982 and his subsequent bankruptcy following that film's spiralling production costs, director Francis Ford Coppola turned his hand to a couple of adaptations of 'teen-novels' by S.E. Hinton. This was the first (followed by "Rumble Fish") and although it doesn't quite hold up today, it still shows how Coppola had an eye for acting ensembles. In 1960's Oklahoma, 14 year old Ponyboy Curtis (C. Thomas Howell) is part of a gang known as "The Greasers". At heart though, he has an interest in poetry and "Gone With The Wind" and believes in a better life. However, one evening him and his friend Johnny Cade (Ralph Macchio) are attacked by rival gang "The Socs". In defence, Johnny is forced to kill one of them and with the help of Dallas Winston (Matt Dillon), they go on the run. While away though, the tension mounts between the two rival gangs. I remember reading S.E. Hinton's book in school when I was about 13 years old and as much as I loved it then, it is ultimately a sentimental and romanticised view of adolescence. Upon reflection, there are several cringe-worthy moments and Coppola approaches the material with such a melodramatic and unashamed style. In fairness though, he sticks very closely to Hinton's novel (which she wrote when she was 15) and I don't suppose it was meant to appeal to anyone other than those harbouring their teenage angst. It's just a shame, that with such potential, the director of "The Godfather" couldn't have dropped some of the self-indulgent innocence and added a little more bite. However, it doesn't proclaim to be anything other than what it is and it's target audience should still find plenty to enjoy. I know I did - 20 years ago. A lot of scenes still retain a certain power and the music score by Carmine Coppola compliments it well. As does, the use of Stevie Wonder's marvellous song "Stay Gold". The most impressive thing about it though, is the ensemble of young actors that Coppola managed to assemble. A lot of them went on to bigger and better things while some crashed and burned but at the very least, it was a cast of familiar faces that were at the forefront of many successful movies of the 80's and 90's. Coppola released a director's cut in 2005 that restored almost half an hour of footage. I haven't seen that cut and whether or not it improves the film remains to be seen but I would be interested in viewing it nonetheless. As a big fan of the novel in my youth, this is a bit of a guilty pleasure for me. Coppola portrays the characters and sets the scenes with admiration but now that time has passed and my critical faculties have developed, there's no doubt that youth and idealism played a part in my, more favourable, opinion back then.
Mark Walker
Super Reviewer
The Outsiders directed by Francis Ford Coppola is a very well done adaptation of S.E Hinton's classic novel, The Outsiders. Francis Ford Coppola brings together an impressive and talented cast of actors. This is a superb film with a terrific story. I find that The Outsiders is often overlooked as a great film, because after all, Francis Ford Coppola did direct The Godfather and Apocalypse Now. The Outsiders is a terrific, well plotted and directed film that stays truthful to the book. That's what I love about Coppola, his respect for the source material. Just like he did with Mario Puzo's The Godfather, Coppola stayed true to the novel when he made The Outsiders. This boasts a great cast of now known actors, and they each deliver good performances. The Outsiders is both dramatic and funny, and Coppola's brilliant directing definitely pulls you in. You feel something for the characters and you sympathize with them. Francis Ford Coppola is a phenomenal director, and because he's directed three film classics before this, The Outsiders is often forgotten, but it shouldn't. The film will appeal to fans of the book, as it stays truthful to the source material, and is yet another solid effort from Francis Ford Coppola. The Outsiders tells a remarkable story of a rivalry between two Teen gangs and the struggle to survive a brutal confrontation and the ultimate run from the law. The Outsiders is not a perfect film, but it definitely is a classic\, and is a definite must see.
The Outsiders Quotes
There are no approved quotes yet for this movie.