Outlaw King
(2018)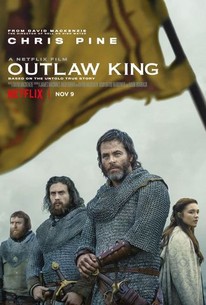 TOMATOMETER
AUDIENCE SCORE
Critic Consensus: Muddy and bloody to a fault, Outlaw King doesn't skimp on the medieval battle scenes, but tends to lose track of the fact-based legend at the heart of its story.
Movie Info
OUTLAW KING tells the untold, true story of Robert the Bruce who transforms from defeated nobleman to outlaw hero during the oppressive occupation of medieval Scotland by Edward I of England. Despite grave consequences, Robert seizes the Scottish crown and rallies an impassioned group of men to fight back against the mighty army of the tyrannical King and his volatile son, the Prince of Wales. Filmed in Scotland, OUTLAW KING reunites director David Mackenzie (Hell or High Water) with star Chris Pine alongside Aaron Taylor-Johnson, Florence Pugh and Billy Howle.
News & Interviews for Outlaw King
Critic Reviews for Outlaw King
Audience Reviews for Outlaw King
By and large, when there's no battle taking place, Outlaw King is not a rousing success, but those fight scenes are spectacular, and recurring.
½
Netflix produced films have been a mixed bag. Notably, most of their content seems to be either exceptionally great or outright trash. This particular picture, Outlaw King, lies between the two extremes. Outlaw tells the story of King Robert the Bruce and the later stages of the medieval Scottish War of Independence. The inevitable comparison to Braveheart is something I will address right away. Braveheart is the more entertaining movie, and probably better if you are looking for a classic Hollywood summer blockbuster of yesteryear. Outlaw King doesn't have the same pulse but is more authentic and grittier. It certainly is a post-Game of Thrones medieval epic, in both its tone and production. King is not without flaws. The second act is fairly weak and plodding and I could see people dropping out before the film's completion. Chris Pine is a fine actor and does the best he can in this situation, but he is absolutely out of place. (My Scottish friend was quite vexed with his casting and reminded me SEVERAL times how terrible a decision this was.) Meanwhile, I was surprised how good Aaron Taylor-Johnson was as "The Black Douglas," utterly vengeful menace that he was. Johnson has often been miscast as a leading action man, and he is starting to find his niche as a character actor. Florence Pugh had great chemistry with Pine, while Billy Howle's Edward II proved an able villain. With a big budget and plenty of action, Outlaw King manages to succeed despite its weak middle section. The violence is visceral, but most of the battles prove forgettable with one exception. That exception being the climatic Battle of Loudoun Hill, a muddy and gory affair in a manner similar to The Battle of the Bastards from...well you know the rest. It also has a hell of an opening with plenty of energy, which I wished was maintained throughout the whole affair. Outlaw King is certainly worth a look if you are into this kind of material, but not essential viewing for the uninitiated.
Joshua Sheetz
Super Reviewer
The story of Robert the Bruce, w/o the heavy-on-the-glory aspect rendered in the movie Braveheart, of which this story follows nearly directly after. Pine is more than credible, as is the entire cast, as he fights the British army while on the run and with only a handful of men. Edifying as well as entertaining, if slow in spots. Expect mucho bloodletting and carnage.
Kevin M. Williams
Super Reviewer
Outlaw King Quotes
There are no approved quotes yet for this movie.