Out of the Blue
(1982)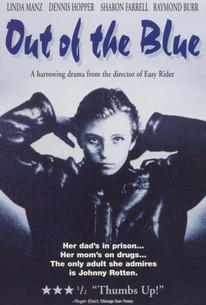 Movie Info
In this film, Dennis Hopper plays a man who has been released from prison after several years. He returns home to find that the "flower generation" has degenerated into a passel of selfish, irresponsible, muddled-headed jerks. Hopper's hopes to re-enter society are consistently dashed by his contemporaries.
News & Interviews for Out of the Blue
Critic Reviews for Out of the Blue
Audience Reviews for Out of the Blue
½
"Out of the Blue" is almost fantastic. A key comeback project for Dennis Hopper, it was his third directed feature after the mega-hit "Easy Rider" and the mega-flop "The Last Movie." Neil Young's "Hey Hey My My" (Out of the Blue)" is the film's theme song and apparently inspired the plot. The unique Linda Manz -- whose sporadic acting career is often lamented -- stars as CeBe (pronounced Cee-Bee), a confused teenage rebel. Her trollop mother Kathy (Sharon Farrell) is a diner waitress and junkie, while father Don (Hopper) is a former trucker coming off five years in prison. His crime: plowing his rig into a school bus while drunk. Multiple children died in the collision, and passenger CeBe still has nightmares. The film is mostly a character study and centers on CeBe, Kathy and their crummy town adjusting to Don's return. Kathy has been sleeping around and shooting up, while CeBe kills time idolizing Elvis Presley, listening to punk rock and bantering on the radio in Don's old truck (now rotting in the yard, overgrown with weeds). A lecherous friend has his eyes on both Kathy and CeBe, while a still-grieving father seethes about his son's freed killer. Don finds a job manning a bulldozer, but quickly succumbs to his old vices. Meanwhile, the family seeks help from a therapist portrayed by Raymond Burr, who seems to be acting in an entirely different movie. Beyond the incongruity of Burr's scenes, the film's biggest problem is character consistency. Kathy is a heroin addict, but remains quite attractive and seems to have no problem breezing through her day. And CeBe is a mass of contradictions that aren't easy to swallow. The problems start with petite tomboy Manz, who was 18 at the time but looks four years younger. Her character's emotional age also varies wildly -- she sucks her thumb and sleeps with stuffed animals, but also smokes and teases men like a jaded twentysomething. So, just how old is this girl? She's also a punk-rock fan with a Sid Vicious fascination (her happiest moment is an onstage appearance with real-life band the Pointed Sticks), yet she plasters her walls with sappy Elvis pin-ups and can't get enough of "Teddy Bear" (possibly his wimpiest hit). This is hard to fathom. Someone with her demonstrated instability should have some quirks, but such extreme contrasts don't ring true. However, the unforgettable ending sweeps these misgivings aside. Stick around.
Eric Broome
Super Reviewer
Out of the Blue Quotes
There are no approved quotes yet for this movie.