The Osterman Weekend
(1983)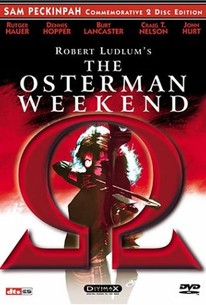 Movie Info
A man discovers that his best friends are actually spies -- or are they? -- in this thriller based on Robert Ludlum's best-selling novel. John Tanner (Rutger Hauer) is the host of a television news show who once a year spends a long weekend with three of his best friends from college, Bernard Osterman (Craig T. Nelson), Joseph Cardone (Chris Sarandon), and Richard Tremayne (Dennis Hopper). Tanner is approached by Lawrence Fassett (John Hurt), a CIA agent who has evidence proving that his three pals are actually agents working with the Soviet Union. With Tanner's reluctant approval, his house is wired with video surveillance equipment so that the CIA can monitor what Osterman, Cardone, and Tremayne say and do over their weekend together in hopes of putting the traitors behind bars. However, Tanner soon realizes that Fassett's agenda is not all that it appears to be. The Osterman Weekend was directed by Sam Peckinpah; it proved to be his last film, as he died a year after its release.
Critic Reviews for The Osterman Weekend
Audience Reviews for The Osterman Weekend
½
Somewhat confusing espionage thriller from the old days of the cold war and director legend Sam Peckinpah's final film. While the cast is great and delivers, the plot is a tad uneven in the first half but does get better once the weekend starts. Then things decently exciting and some of the characters finally grow on you. Then the film also benefits from the uncertain loyalties and comes up with a surprise or two, like a pretty strong female character. The bloody showdown, even though using a bit too much slow motion is pure Peckinpah. Overall the film suffers from its own logic, that just doesn't seem to fit together, despite of a pretty entertaining second half.
Far from the old days of glory when this filmmaker could shock, unbalance or move us. You could tell he wasn't really into the story at all, though I can't blame him for that, in the everything seems so futile and silly. The only good points are the ensemble cast and some of Bloody Sam's trademark slow motion action scenes. Unintriguing, forgettable.
Pierluigi Puccini
Super Reviewer
Definitely falls under the category of one of the most under-appreciated and overlooked movies ever made. The film-making style alone is worthy of praise, Sam Peckinpah's early use of slow motion action sequences and sound is just so well done. Not to mention the flawless casting, Rutger Hauer has and always will be one of the greatest actors of all time. He makes any role feel incredibly human and at the same time captivating beyond belief. The story is so well played out, making for one of the best Soviet-Spy plots. There is one twist after another and even when you think you've figured it out it throws you another twist. All around this is just an incredible movie and definitely deserves more credit.
Conner Rainwater
Super Reviewer
The Osterman Weekend Quotes
There are no approved quotes yet for this movie.