Ordinary Decent Criminal
(2000)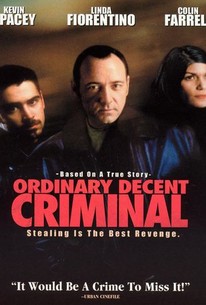 Movie Info
Ordinary Decent Criminal is a classic gangster movie in modern-day Ireland. It follows the extraordinary adventures of a Robin Hood character, Michael Lynch, a thief, bigamist, liar, and criminal genius who robs from the rich to give to the poor. Michael is suave, sardonic, and sexy. When his leather-clad figure weaves its way through the Dublin traffic on a powerful motorbike, people stare in awe. He loves his two wives (who happen to be sisters), his wild kids, his gang, and, most of all, his way of life. He has two fundamental beliefs: be loyal to your own and the hell with the establishment. As his ego gets bigger and bigger, he enjoys his notoriety more than the cash it brings. Determined to break him, the police increases its harassment of the whole gang, as Michael makes a mistake that could threaten his good name with the public and his reliability as a bread-winner. But he recovers his equilibrium in time to dream up a final grand scheme to survive the trap set for him. The story is reminiscent of John Boorman's The General about a similar real-life character, Martin Cahill, also a Robin Hood married to two sisters. The impressive cast includes Kevin Spacey, Linda Fiorentino, and Peter Mullan, the tragic hero of My Name is Joe.
Critic Reviews for Ordinary Decent Criminal
Audience Reviews for Ordinary Decent Criminal
In Ordinary Decent Criminal, Kevin Spacey plays Michael Lynch, a clever criminal who pulls off daring heists, enjoys outsmarting the cops, looks superb in his black hood and other sorts of attention-grabbing face gear, has a bizarre ménage- a- trois with his wife and her sister... you get the idea!! His next heist becomes an obsession when his partners start questioning Michael's ability to plan everything perfectly, when he isn't playing good father at home. Kevin Spacey, as always, is great and it's fun to see one of the impossibly spunky Colin Farrell's first "big screen" appearances. Ordinary Decent Criminal is a fast paced entertaining romp of a film but no match for the "Usual Suspects" or "Se7en". The crime vignettes are highly amusing. Good soundtracks by Blur's Damon Albarn.
Kevin Spacey has two wives, and cops follow him around and he does 'zaney' things to get away from them so hes can blahc ahclas....sorry. Lost my interest even talking about it.
Curtis Lilly
Super Reviewer
I think if this had been based on a ture story the events would have seemed a little more intersting. Kevin Spacey plays a mastermind of a criminal, who is shared by his wife and her sister. The only known Irish person in this film that I recognised was Colin Farrell, who played a relatively small part. Interesting story, not very interestly told. VERDICT: Worth a watch, but wait until it's on tv
Lady D'arbanville
Super Reviewer
Ordinary Decent Criminal Quotes
There are no approved quotes yet for this movie.