Operation Finale
(2018)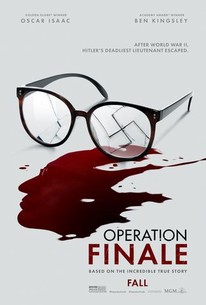 TOMATOMETER
AUDIENCE SCORE
Critic Consensus: Operation Finale is well-intentioned, well-acted, and overall entertaining, even if the depth and complexity of the real-life events depicted can get a little lost in their dramatization.
Movie Info
Fifteen years after the end of World War II, Israel's intelligence agency Mossad and security agency Shin Bet - led by the tireless and heroic agent Peter Malkin (Isaac) - launched a daring top-secret raid to capture the notorious Eichmann (Kingsley), who had been reported dead in the chaos following Nazi Germany's collapse but was, in fact, living and working in a suburb of Buenos Aires, Argentina under an assumed identity along with his wife and two sons. Monitoring his daily routine, Malkin and his operatives plot and execute the abduction under the cover of darkness just a few feet from Eichmann's home. Determined to sneak him out of Argentina to stand trial in Israel, Malkin and Eichmann engage in an intense and gripping game of cat-and-mouse.
News & Interviews for Operation Finale
Critic Reviews for Operation Finale
Audience Reviews for Operation Finale
½
Like Argo (and no doubt countless others Iï¿ 1/2(TM)m unaware of), but with nazis and without the elaborate facade. Of course, Argo was a well-respected and well-received film upon initial release and part of me has to wonder whether Operation Finale suffers from having so recently experienced such a similar and more charismatically executed version of this story or if I really do need to go back and watch Argo with fresh eyes. Has my taste really progressed and expanded that much in six years? Besides causing some self-exploration though, Operation Finale is a perfectly competent thriller that lacks any sense of grandeur or artistry that makes it worth seeing on the big screen. The top-tier casting is here with Oscar Isaac and Ben Kingsley relishing in their testy dynamic, Nick Kroll shows off heï¿ 1/2(TM)s very much interested in doing work as he gets a more prominent role here than he did in Loving while Mï¿ 1/2 (C)lanie Laurent is largely and unfortunately wasted. It also took me some time to recognize Joe Alwyn of Billy Lynnï¿ 1/2(TM)s Long Halftime Walkï¿ 1/2(TM)s, but the young actor does a notable job of pulling the viewer into his charming character before realizing what side of the line he falls on (the kid is one to watch this fall too given heï¿ 1/2(TM)s netted roles in Mary Queen of Scots and The Favourite). The tension throughout the entirety of the third act is expertly crafted as well and there are some genuine white knuckle moments, but by the time the credits begin to roll there is a stern sense of appreciation without the film holding the stern sense of influence one might imagine to linger given the powerful true events the film is based on.
Philip Price
Super Reviewer
Operation Finale is one of those kinds of movies that is just good enough to make me wish it had been better. It's based on the true story of an Israeli team of spies that located Adolph Eichmann (Ben Kingsley), one of Hitler's lieutenants who authored The Final Solution. He's been hiding in Argentina for years and giving public lectures, which isn't helpful with keeping a low profile. Oscar Isaac (The Last Jedi) leads the Israeli spies as they plot to kidnap Eichmann, get him to admit his guilt for the Holocaust in writing, and smuggle him out of the country and to Israel to stand trail for the deaths of millions. This story should be exciting, it should be fascinating, it should be compelling, and for stretches it can be, but Operation Finale errs in capturing Eichmann too quickly. The majority of the film is the spy team holding him in a secret location and interrogating him, while the surprisingly Nazi-coddling police force of Argentina hunts for their location. I'm assuming the filmmakers were accurately telling the true story, but you start to question why the spies are taking their sweet time. Why not get on a boat as soon as possible and sail to another country to fly away, one less friendly to former Nazis? There aren't really any set pieces where their cover might be blown. It's mostly Isaac talking with Kingsley, and while their conversations are entertaining, it's yet another preview of a better movie that we're never going to have delivered. The film lacks enough urgency. The characterization is too limited and the supporting characters are more faces than people; Melanie Laurent essentially plays The Woman Spy. Operation Finale should have either spent more time on the specifics and complications of nabbing Eichamann, presenting a challenge, or it could have accentuated the debate between Isaac and Kingsley over the nature of culpability, rationalization, guilt, and vengeance. There's probably a really good Nazi-hunting mini-series or Nazi-debating play in here. Either way, the actual finished film is well made, well acted, and well intentioned but also dramatically lacking. Nate Grade: C+
Nate Zoebl
Super Reviewer
½
GOLDEN AGED CHEESE - My Review of OPERATION FINALE (2 1/2 Stars) Hollywood Golden Age porn is real y'all and it lives on in such films as ALLIED, ATONEMENT, THE BLACK DHALIA and now OPERATION FINALE, Chris Weitz's first feature directing gig since the wonderful A BETTER LIFE from 2011 and written by Matthew Orton. Set in the early 1960s and telling the true story of how the Israeli Mossad attempted to kidnap and bring to justice, the architect of Hitler's final solution, Adolf Eichmann (Ben Kingsley), who after World War II had assumed another identity and escaped to Buenos Aires. This film has everything going for it - a suspenseful story, the great Ben Kingsley in another thoroughly compelling role, and high stakes considering the millions of lives lost because men like Eichmann had the ability to dehumanize people. It even has relevancy on its side considering our current President uses words like "infest" to describe immigrants. The filmmakers, however, choose to present this story in an old Hollywood sheen, depriving it of the grit and soul so clearly at its center. Oscar Isaac, in bland movie star mode here, plays Peter Malkin, who in the epilogue, bungles a mission to capture Eichmann. If only he could get out of his own cocky way! Maybe next time! That next time comes soon enough when reports filter down to the Mossad that Eichmann is alive and well in Argentina. Haley Lu Richardson (SUPPORT THE GIRLS, THE BRONZE) plays Sylvia Hermann, a Jewish girl who just happens to meet cute with Eichmann's son Klaus (Joe Alwyn) as she shushes him in a movie theater. Their dating leads to two meet-the-parents scenes, one with her blind father Lothar (Peter Strauss of RICH MAN, POOR MAN - Jesus! Where have you been?!!) and another with Eichmann and his wife Vera (Greta Scacchi! Between this and THE TERROR, it's great to have you back!). Lothar figures out who Klaus' father is, sending his poor daughter into a life-threatening trap to confirm his identity. I wanted more of these characters, but, unfortunately, the film discards them too soon. The whole time I kept wondering if the Fascists were going to kill poor Sylvia, but the movie didn't seem to care as much, only dropping in on her briefly towards the end. It's a waste of the talented Richardson and an early sign that the storytelling drops the ball on some key plot points. Still, the setup plays well, considering the analog style in which everything had to be done in this age before the internet and GPS could have solved a lot of problems. Rather than going to Argentina and killing him, the Mossad, led here by the hypnotically powerful actor, Lior Raz, decide that it's best to bring Eichmann back to Israel where he will suffer through a televised trial in front of the entire world. It was a wise plan but difficult to execute, considering the Fascist elements alive and well in Buenos Aires and the many ways things could go so wrong. Malkin has a short time to assemble a team, which includes his ex-girlfriend Hanna (Mélanie Laurent ), a physician who has the tough task of sedating Eichmann just enough so that they can make him look drunk as they escort him onto an El Al plane back to Jerusalem. Once they doctor up their passports and take many different routes to cross the ocean in one of those tired old school "let's trace a map" montages, the group of spies manage to get Eichmann to a safe house where they have to wait a long time for a plane to take them back home. One key element involves Eichmann having to sign a paper allowing such extradition. It's no easy feat to make someone sign their own death warrant, and this section of the film works the best. It's showdown time between Malkin and Eichmann and at least Kingsley brings something menacing and original to these Hannibal Lecter/Clarice Starling Quid Pro Quo moments. Kingsley captures the "banality of evil" so well, particularly in scenes where Isaac spoon feeds him, allows him to go to the bathroom, or when he shaves him with a straight razor. A master manipulator, Kingsley nails the casual push-pull of these scenes, simultaneously showing us the monster and the man. It's too bad Isaac didn't get the same memo. Despite his character's tortured past concerning the Holocaust death of his own sister, Isaac tends to know where all of his key lights are as he consistently finds the right angle to display his handsome face. He's a great actor, so I'm blaming this on a director and writer who wanted to make their own CASABLANCA instead of committing to a wonderful story all its own. This is a great cast with great confident work by Laurent as well as memorable appearances by Michael Aronov (so great on THE AMERICANS), Ohad Knoller (YOSSI & JAGGER), Nick Kroll, who brings comic relief while still managing to take his part seriously, and Greg Hill, a Mossad agent who would rather end Eichmann's life rather than go through with the plan. OPERATION FINALE, which also suffers from a way too melodramatic score by the usually great Alexandre Desplat, feels like the bastard step-child from an orgy participated in by MUNICH, THE BOYS FROM BRAZIL, MARATHON MAN, and ARGO. One can't help but conclude the 11th hour airport sequence played a little fast and loose with the facts and ARGO'd it up a little. Still, I didn't know this story, and it's an important one. The sister storyline goes for something poetic and emotional at the end, reminding me of the great last shot to THE LOST CITY OF Z, and in this current age of instant public humiliation on social media, it's fascinating to identify with an entire country who wanted Eichmann to pay for the sins of many. Despite the fact that the film humanizes him to a degree, it's still clear the man deserved everything that was coming to him. We have many brave people to thank for their attempts and OPERATION FINALE deserves to be seen for that reason alone.
Glenn Gaylord
Super Reviewer
Operation Finale Quotes
There are no approved quotes yet for this movie.