Operation: Endgame (Rogue's Gallery)
(2010)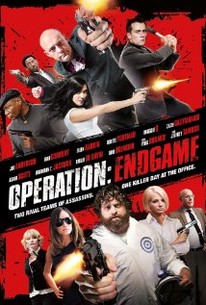 Operation: Endgame (Rogue's Gallery) Photos
Movie Info
A satirical workplace comedy with a slick action twist, Fouad Mikati's Operation: Endgame explores the violence that erupts when the organization charged with protecting America implodes, and the employees turn their guns on each other instead of their enemies. Somewhere beneath Washington, D.C., an intense rivalry is heating up between two opposing teams of government assassins. The hired killers in the organizations take their names from Tarot cards. The Fool (Joe Anderson) is the latest recruit. Reporting for his first day on the job, The Fool is shocked to find that his boss is dead, and the office is on lockdown. To make matters worse, the building has been rigged with explosives, and it's going to blow soon. Now, in order to get out alive, The Fool will have to root out the killer in his midst, and make a quick escape before his co-workers catch him in their crosshairs. Ellen Barkin, Zach Galifianakis, Rob Corddry, and Jeffrey Tambor star. ~ Jason Buchanan, Rovi
Critic Reviews for Operation: Endgame (Rogue's Gallery)
Audience Reviews for Operation: Endgame (Rogue's Gallery)
½
A satirical workplace comedy with an action twist. A dark, edgy and wild as hell blast of a film. A wickedly entertaining and savage comedic-thriller that's just as much of as an action film that's filled with great humor and great action. It's stylish, slick and exceptionally crafted. A terrific cast of actors who all look like they are having great time in this film. One of the brightest and most original genre films of 2010. A brutally hilarious, sharply suspenseful and action-packed movie. It packs some cool twist that keep you guessing. A tremendously enjoyable way to spend 82 minutes. Rob Corddy is outrageous and terrific. Ellen Barkin is sexy and tough as nails.
The action is pretty mindless, but the movie is really more comedy than anything else. It seems like a typical day at the office, until something goes terribly wrong and suddenly everyone starts killing each other. Though still cracking jokes and making sarcastic banter. It's written and performed well for the most part. Aside from a couple of exceptions, the impressive cast list only play bit parts. Don't expect to see much of Ving Rhames or Zack Galifianakis, for example. I was disappointed what I wished Maggie Q's character should have survived at the end, but she didn't.
Dean McKenna
Super Reviewer
Cast: Joe Anderson, Odette Yustman, Adam Scott, Zach Galifianakis, Emilie de Ravin, Maggie Q, Ving Rhames, Ellen Barkin, Bob Odenkirk, Rob Corddry, Jeffrey Tambor Director: Fouad Mikati Summary: When a government assassin known as The Fool (Joe Anderson) arrives at a classified underground facility for his first day of work, he discovers the boss has been killed. Now, he must uncover the murderer before they all lose their jobs -- or their lives. My Thoughts: "It was a simple fun action film. Had lots of good fun fight scenes with some really unique killing styles. It's literally just chaos all the way through. Rob Corddry brought the laughs. Emile De Ravin's character 'Heirophant', was by far the craziest. That giggle she gives after a killing screams insane. She played it well. All the actors where great in this. The plot of the film kind of gets lost in all the chaos. But there is a good twist. It's worth the rental if your in the mood for a fun action comedy."
♥˩ƳИИ ƜѲѲƉƧ♥
Super Reviewer
Operation: Endgame (Rogue's Gallery) Quotes
There are no approved quotes yet for this movie.