Opera
(1987)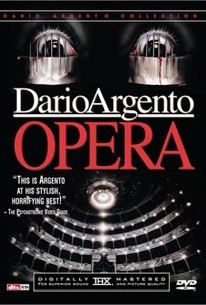 Movie Info
An obsessed fan stalks a young opperata and kills those who are closest to her.
Audience Reviews for Opera
Released in 1987, Dario Argento's giallo thriller 'Terror at the Opera' perfectly blends the grandeur of the opera with his unmistakable brand of violence. Cristina Marsillach plays Betty, the beautiful understudy of a soprano who finds herself centre stage when the show's star is in an accident. With her newfound fame comes a cost, however, and Betty soon becomes entangled with a murderous stalker who forces her to watch him kill. 'Terror at the Opera' feels Shakespearian in essence, with ideas about love, obsession, and violence fuelling Argento's vision and immersing viewers in a world of tragedy and death. As well as this the film is very successful in building tension, utilising silence and unconventional camera-angles to great effect and keeping audience members on their toes, waiting for the patented violent Argento outbursts. When the violence comes its brutal and gripping, blood fills the screen and much like the film's protagonist, you'll find yourself unable to look away. The soundtrack is used perfectly and the mix of Opera, heavy metal, and 80s progressive rock perfectly suits the film's unpredictable nature. Despite everything it has going however for it the film feels overlong in its final 2 scenes, becoming somewhat ridiculous and taking away from the experience that preceded them. Verdict: an effective study of audience complicity and voyeurism, Terror at the Opera, despite being great, fails to live up to the high of Argento's earlier work 'Suspiria'.
Cameron Sherwell
Super Reviewer
½
If you're OK with the outlandish work of Italy's premier horror director-able to accept his outrageous story lines and flamboyant style-then you should have a great time with Opera. If you don't, then you won't. Cristina Marsillach plays Betty, a beautiful young opera understudy who is given a shot at fame (in an avant-garde production of Macbeth) when the star of the show is hit by a car. As any thesp who has 'trod the boards' will know, Macbeth is a production that carries a curse-and Betty soon discovers that the show in which she is now the star is no exception: a killer is systematically offing the staff at the theatre-and poor Betty is forced to watch by the sadistic murderer (who tapes needles under her eyes to prevent her from closing them!). With the help of a little girl who crawls through her air-conditioning ducts, her director and agent, and a few ravens who have seen the murderer's face (!!!), Betty discovers the killer's identity, and the truth about her mysterious past. Let's face it... Opera is one crazy film, with its preposterous plot-turns, convoluted death scenes, and an ending that beggars belief. And whilst director Dario Argento has never been one for, shall we say, conventional story lines, this particular giallo is so daft, and features so many of his trademark stylish touches (all ramped up to the max), that it's almost as if, with each successive film, he is seeing what he can get away with (at times almost parodying his earlier work). This is exactly why I find the film such fun!!! Argento's camera movements are absolutely incredible: gliding, creeping and, in one amazing scene, even swooping around the opera house above the audience; the power of Verdi's music is combined perfectly with the synth majesty of Claudio Simonetti's score, providing a suitably grandiose accompaniment to the sumptuous visuals; and several outstanding set-pieces (featuring Sergio Stivaletti's nauseating gore FX) go to prove that no-one does death better than Argento (check out one character's stunning demise, in which a bullet passes through a spy-hole in a door in slow motion, and straight into their eye!).
Cassandra Maples
Super Reviewer
½
I really couldn't decide whether or not I liked this movie. I mostly liked it: Argento's style is evident, there are a lot of great special effects, and cool music. The story starts out interesting, but then there are a bunch of crazy plot twists, most are confusing too. Overall, it could have been better.
Opera Quotes
There are no approved quotes yet for this movie.