Opening Night
(2017)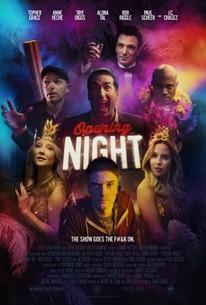 Movie Info
A failed Broadway singer, who now works as a production manager, must save opening night of his new production by wrangling his eccentric cast and crew.
Critic Reviews for Opening Night
Audience Reviews for Opening Night
½
How do I feel about musical theater or musicals in general? Well, let's just say that I've never been the biggest fan. I've enjoyed my fair share of musicals. For example Tim Burton's Sweeney Todd was phenomenal and I loved The Happiness of the Katakuris. The Hairspray remake was also really good. I have no problem with with films like Pitch Perfect, where the performances are part of a larger competition. But a straight-up musical, like West Side Story, I just don't enjoy. When people just start singing and dancing and it's meant to be taking as a serious way to move a story forward, then I just really zone out. Like they lose my interest and I just shut my brain off for a few seconds until the musical number is over. Not saying it's not a legitimate way to tell a story, because it is. There's more than one way to tell a story and it doesn't mean that it's not a legitimate form of storytelling just because I don't like it. I remember seeing Cats in Broadway when I was 10 years old. I don't remember much of it, so don't ask me what I thought of it. I do remember that the theater was hot as all fucking hell. Moving on. This movie really does remind me of a very, very, very Americanized version of My Big Night (or Mi Gran Noche in Spanish, since the film is from Spain). What I mean by that is that it takes a look at the stressful backstage scene and dealing with multiple characters all with their own issues all the while they're trying to put on a happy face in front of the camera or the audience in this film's case. My Big Night was tremendous, because it was so manic and there was so much shit going on with all the characters that, surprisingly, you could actually keep track of. This isn't anywhere near as manic as that, but there are some certain things where it seems like this film stole from My Big Night. Like JC Chasez playing an exaggerated version of himself, who's a major asshole and a player, feels ripped straight out of My Big Night. Raphael, a singer famous in Spain and ot her spanish-speaking countries, played an exaggerated version of himself (named Alphonso) that was a major dickhead to everyone. He wasn't a player, but he was such a dick. But I digress, comparing this film to My Big Night isn't gonna be favorable to this flick. I don't know what to make of this film, because there's so much that's thrown out there and so many characters doing silly things, that you're almost distracted by its flaws once it starts nearing its end. But I, legitimately, had a good time watching this movie up to a certain point. This is something I mentioned in my review of Hell Baby, but this just seemed like a fun atmosphere to work in. Like it just allowed the actors to cut loose and give infectious performances that benefited the entire film. I'm not saying there are any award-winning performances here, but the cast was great and they were a large part of the reason this ended up working. As I mentioned, the film looks at Nick as he deals with all the backstage craziness in putting together the perfect show (One Hit Wonderland) on its opening night. This isn't always easy, dealing with the egos of everyone in the cast, but he tries his best. The film has several subplots, like Nick and Chloe still being in love after breaking up a year ago. JC Chasez trying to sleep with Chloe after her performance on-stage impresses him. Brooke taking a spill before the show and then, accidentally, being given two ecstasy pills because Nick thought they were medicine. Malcolm and Brandy feuding over one of the new dancers to see who can sleep with him first. And then there's minor running jokes, like this woman who doesn't wanna do anything stressful for fear that it might hurt her baby (she's been pregnant for three days according to Nick and she asked to do coke with them the week prior to that). The film's tone is certainly a good one. I was gonna say light, but there's a lot of raunchiness here. But I do believe the film's tone keeps things fun and the pace fast. I was gonna give this film 3 stars, and it might have gotten them some other day, but I do believe that the film does drag a little bit and the consistency issues late in the game do hurt the movie. It becomes every rom-com you've ever seen and, while it's never bad, I just don't think it was better than what came before it. And that's what really ends up hurting this in the long run. They just lost, during its last act, most of what made the movie fun and exciting for its first two acts. Though I'll still say that I ended up enjoying this movie more than the rating I gave it. It's super short, so it's not gonna overstay its welcome, the cast is fun and the film moves at a quick enough pace. But I can't really overlook the flaws that plagued the movie just as it, hopefully, should have been peaking. I'd still recommend this if you something that's a little less demanding and fun, but there's no denying that parts of this missed the mark. Wouldn't wholeheartedly recommend it, but there's some fun to be had here in spite of all the issues under the hood.
Jesse Ortega
Super Reviewer
Opening Night Quotes
There are no approved quotes yet for this movie.