Opening Night
(1977)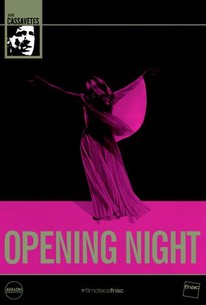 TOMATOMETER
AUDIENCE SCORE
Critic Consensus: Opening Night is as dense and difficult as one would expect from John Cassavetes, but even the director's detractors will be unable to deny the power of Gena Rowlands' performance.
Movie Info
John Cassavetes' Opening Night stars Gena Rowlands (Mrs. Cassavetes) as end-of-tether Broadway actress Myrtle Gordon. She is about to open in a play written by her old friend Sarah Goode (Joan Blondell), but a series of pre-show setbacks and disasters threaten to destroy not only the production but Myrtle's sanity. The actress is especially rattled when one of her staunchest fans dies in an accident. In the face of bleak reality, just how important is the old "show must go on" ethic? Supporting Gena Rowlands are such veterans of the New York-Hollywood shuttle as Ben Gazzara, Zohra Lampert, Paul Stewart, James Karen, and several friends and relatives of the principals. ~ Hal Erickson, Rovi
News & Interviews for Opening Night
Critic Reviews for Opening Night
Audience Reviews for Opening Night
½
a mesmerizing film about the theater and aging, akin to 'all about eve' in many ways. knockout performance by gena rowlands in the bette davis role. extra star for joan blondell driving a trans am. one of cassavetes' very best
Stella Dallas
Super Reviewer
It was once suggested by Pauline Kael, never a fan, that Cassavetes thought not like a director, but like an actor. What Kael meant was that he lacked sophistication as a filmmaker; to take that comparison further, to me, it never feels like Cassavetes is directing himself in a film, it feels like Cassavetes implanting himself inside his own creation, like Orson Welles. Opening Night is about the mystery of becoming, performing, and acting. Like a haunted Skip James record, it's got the echoes of ghosts all around. Gena Rowlands' breakdowns, which are stupefying and almost operatic, surprising coming from Cassavetes, are accompanied by a jumpy, unsettling piano. It's also refreshing to see some plot points -- Who is this dead girl? The metaphysical possibilities are endless, and it's amazing to find this kind of thing in a Cassavetes film. This is not Adaptation; here, the blending of reality and fiction and drama is not to show cleverness but to show the inner turmoil and confusion it creates. There's so much going on here. The pure, joyous love when Rowlands greets her doorman; the horror when she beats herself up... The scene where the girl talks about how she devoted her life to art and to music is one of the most effective demonstrations of understanding what it means to be a fan of someone. You can see some roots of this in A Star Is Born, and Almodovar borrowed from it for All About My Mother. I think the ending is a little bit of a disappointment in its ambiguity because of the laughing fits, but the preparation leading up to it is almost sickening. (Also, I think it's worth mentioning that I don't think this film is about alcoholism -- despite its urgency in many of the scenes, it's a relatively small point about the film.) It's a living, breathing thing, and it feels like a process: it could go any direction at any time. Like Taste of Cherry, we are reminded that "you must never forget this is only a play." Yet it is dangerous: when Rowlands says that line, is it great drama? How will the audience take it? Is she being reflexive or does she just not care? Her (character's) breakdowns are incorporated into the performances, and ultimately the film, in such a way that it's like witnessing a female James Dean. Yet another stellar collaboration between Rowlands and Cassavetes.
Jonathan Hutchings
Super Reviewer
½
Gena Rowlands is great once again in Cassavtes's "Opening Night". I liked the film especially the madness from the characters. The improvisation is at it's finest but as for the film, I'm not sure if it's great. "Opening Night" is too long and some scenes drag and questions raised a lot in my mind. Take for instance when the Rowlands character keeps witnessing a young girl in her frenzied state. Is the girl real? Why does Rowlands have these strange thoughts in her head? Is she crazy? What is her purpose? I was left sorta baffled.
Opening Night Quotes
There are no approved quotes yet for this movie.