Open Water
(2004)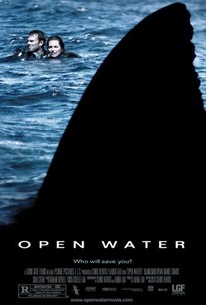 Movie Info
Based on a true story, a thriller about an American couple, Daniel and Susan, who are on an island holiday. Upon arrival at their hotel, it becomes clear that Daniel and Susan's relationship is under strain from their workaholic lifestyles, and they need a vacation even more than they realized. The next morning, the loving and rested couple, certified scuba divers, board a local dive boat for an underwater tour of the reef. The boat is crowded with other vacationers, and due to a series of innocent miscommunications and a distracted crew, the couple is, after only 40 minutes or so underwater, accidentally left behind. What follows is the story of their ordeal: cold, alone and miles from land, the couple is adrift in shark-infested waters. What follows is a reminder to us about how much 'fun' it is to be frightened by our most primal fears--namely what we think may linger just below the surface.
Critic Reviews for Open Water
Audience Reviews for Open Water
Open Water is a terrific example of using a simple concept to create something truly horrific./ Based on real events, the film follows a couple stuck in the middle of the ocean after being stranded when scuba diving, and they were left behind due to an inaccurate head count. What follows is a tense, horrifying fight to survive in the middle of nowhere. I really thought that this film was well executed in the sense that it really brought out the best in the survival horror film, and the two cast members were very good in portraying that fear and fight to stay alive. Brilliantly crafted and it's a steadily paced, well plotted film that goes deep into the psychological aspects of staying alive in the most stressful environment. Open Water may not be the finest survival horror film, but it's an accomplished picture nonetheless that showcases a simple idea, yet the filmmakers were able to get the most out of the plot due to riveting, tense and highly memorable moments of sheer terror. For a small budgeted picture, Open Water is a worthwhile filmgoing experience that truly delivers the shocks. What also separates this film from others is the more dramatic approach to the material and it makes the film stand out much more than it needs to. With great performances, a well structured story, Open Water is a must see for any genre fan looking for a truly tense film to watch. The film may not be much, but the sheer notion of being stuck in the middle of the ocean is enough to grab your attention right up to the final frame.
Daniel: Other people go on vacation and spend their days just laying around. We have a story we're going to be telling for the rest of our lives. "Don't get left behind." Open Water is a well done independent thriller. Supposedly based on actual events, but this event is something I'm not familiar with, so I have a hard time believing that this is even close to the real event. Nevertheless, I enjoyed Open Water a great deal. It may be the scariest(and when I say scary, I mean from the real life aspect of it) shark movie ever. It's a serious movie, that makes the viewer feel like they are floating around in the middle of the ocean. A couple goes on vacation and decide to go diving on a reef tour. When the count is botched, they are left behind without notice. The rest of the movie is an excursion into the levels of human fear, panic, and insanity. All of it is done very well and I was left feeling claustrophobic even though the movie is set in the the most wide open of settings. The acting isn't tremendous, but that isn't too big of a deal. Most of the embarrassing acting is in the beginning before the diving trip. In the panic and stress moments though, I think the actors did a fairly good job portraying the characters feelings. What sets the movie apart though is how atmospheric and dark toned it is, and just how real life it all feels.  Open Water is one of those shark movies you have to see. It's not a masterpiece like Jaws, but it is still one of the best. I think it's a completely underrated film that is deserving of much more admiration than it received. If you give it a shot, there's the possibility of finding a new hidden gem of filmmaking.
Melvin White
Super Reviewer
½
True story about a couple who got left behind on a diving trip in the open water.
Candy Rose
Super Reviewer
Open Water Quotes
There are no approved quotes yet for this movie.