Open Season
(2006)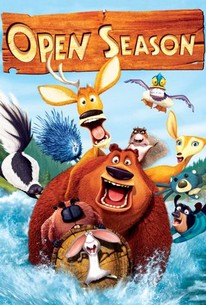 TOMATOMETER
AUDIENCE SCORE
Critic Consensus: Open Season is a cliched palette of tired jokes and CG animal shenanigans that have been seen multiple times this cinematic year.
Movie Info
A domesticated grizzly bear finds that there's more to life than being the star attraction of a mountain town nature show when a fast-talking mule deer offers him a crash course in woodland living in Sony Pictures Animation's first full-length animated feature. Raised by kindly park ranger Beth (Debra Messing) since he was a just a cub, 900-pound grizzly Boog (Martin Lawrence) is content to spend his days entertaining Timberline tourists and his nights nestled safely in Beth's luxurious garage. Boog's life is about to get much more complicated, however, when paranoid hunter Shaw (Gary Sinese) returns from a recent foray in the woods with a frightened, one-horn mule deer named Elliot strapped trophy-like to the hood of his truck. Though at first reluctant to answer Elliot's desperate cries for help, gentle giant Boog eventually frees the thankful creature, who in turn decides to teach his hulking friend what it truly means to be free. Subsequently tranquilized and relocated into the wilderness after momentarily reverting to his true animalistic nature, Boog is forced to team with seasoned forest-dweller Elliot in order to find their way out of the woods before hunting season starts and Shaw comes gunning for all creatures great and small. Things are different in the woods than they were back in the safe confines of park ranger Beth's garage, though, and in order to find their way back to Timberline, Boog and Elliot are going to have to rely on the kindness of their fellow creatures, a rowdy and unruly bunch that includes an army of Scottish squirrels led by rogue critter McSquizzy (Billy Connolly), and a productive beaver construction team whose foreman, Reilly (Jon Faverau), is more than willing to lend a helping tail. With hunting season now upon them and time running out as the hunters close in, the unlikely duo of bear and mule deer put their new life lessons to good use by turning the tables on the gun-toting gamesmen, and once again making the woods safe for the furry critters who call the forest home. ~ Jason Buchanan, Rovi
News & Interviews for Open Season
Critic Reviews for Open Season
Audience Reviews for Open Season
½
It's good if your bored. Open Season is funny at times but ultimately its far far too silly with a poor amount of witty humour apart from the teddy bear picnic song joke.
Directors Cat
Super Reviewer
Fine animation, fine voices. I didn't mind!
Matt Goodman
Super Reviewer
½
Funny but too much toilet humor for kids. If it was more mature and the jokes were better, this would've been great.
Jim Careter
Super Reviewer
Open Season Quotes
There are no approved quotes yet for this movie.