One Last Thing
(2006)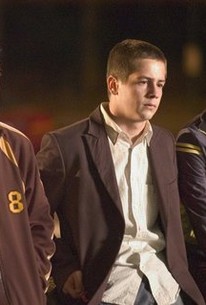 Movie Info
A teenage boy makes the sort of wish you'd expect a teenage boy to make, and he might just get to live it out in this dark comedy. Dylan Jamieson (Michael Angarano) is a 16-year-old boy living in Pennsylvania who is being raised by his mother, Karen (Cynthia Nixon), on her own after the death of his father (played by Ethan Hawke). Karen and Dylan have received the news that the boy has contracted a rare form of cancer and isn't likely to live to see seventeen. Dylan has taken the news surprisingly well, facing his treatment with pointed good humor and spending much of his free time with his best buddies Slap (Gideon Glick) and Ricky (Matt Bush). Aware that the end is on the horizon, Karen contacts United Wish Givers, a group that arranges for ailing youngsters to enjoy a final adventure before they pass, and they set up a fishing trip for Dylan with a professional football star. However, Dylan comes up with a better idea with the help of Slap and Ricky, and on television, tells the group's representatives that what he really wants is a weekend-long date with Nikki Slater (Sunny Mabrey), a supermodel and world-class sex symbol. While the United Wish Givers are appalled and Karen isn't sure this is a good idea, Arlene (Gina Gershon), Nikki's agent, sees possibilities in this news -- Nikki has been on a bender of bad publicity recently, and granting a kid's last wish might be just the thing to help folks forget that she's been pushing rival models off runways. One Last Thing... was directed by Alex Steyermark, who worked with Gina Gershon on his previous film, Prey for Rock & Roll.
Critic Reviews for One Last Thing
All Critics (9) | Top Critics (4) | Fresh (1) | Rotten (8) | DVD (5)
What starts out as an adolescent boy's adventure story unexpectedly turns into some kind of mystical meditation on life and death, but it doesn't really work on either level.
...buoyed by several superb performances and occasional bursts of authenticity.
Little more than a CBS Sunday night movie that peddles inspirational fairy tale schmaltz and middling humor by the coffin-full.
Audience Reviews for One Last Thing
Is this supposed to be moving? when nothing is convincing except for a few moments, when most of the characters are annoying specially that religious doctor, when acting is awful & the ending? afterlife? heaven? huh...oh & well a boy's ultimate wish being being with an annoying model for a week? ok
This movie is amazing for one main reason - the range of emotions you have potential too feel through out it are insane. They go from laughing, to mad, to crying all in a matter of seconds. I was impressed with all the actors even though I really have not seen any of them play in previous films (besides Ethan Hawke) yet they all were very convincing. The storyline was amazing and although a little out there at times - really got you thinking about life and death. This movie was a 5-star for me for sure and a must see for any movie fan. Good Movie Quote - "Whenever we are born the world is happy and we cry, whenever we die the world cries and we are happy.."
Bobby Hobbs
Super Reviewer
½
I love Michael and he pulls off another character that would make some actors cringe. Fantastically done film as it is sweet and funny yet shows the hardship of having a terminal disease.
Leigh Ryan
Super Reviewer
One Last Thing Quotes
There are no approved quotes yet for this movie.