Ondine
(2010)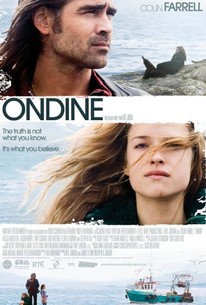 Movie Info
A man makes a startling discovery that may or may not be magical in this drama from writer and director Neil Jordan. Syracuse (Colin Farrell) is a fisherman who lives in a small town on the Southern coast of Ireland. Syracuse is an alcoholic, and though he's been sober for two years, most of his neighbors still remember him as a embarrassing drunk, while his ex-wife now lives with another man. Syracuse tries to scratch out a living from the ocean and help support his young daughter, Annie (Alison Barry), who suffers from a serious kidney ailment, but good luck is rarely with him until one day, when he pulls up his nets and finds what appears to be a woman caught in them. To Syracuse's surprise, the woman is alive, and he brings her to shore. The woman is a mysterious and secretive type who doesn't want to tell Syracuse anything about herself or be seen by anyone; Annie proposes that she's a selkie, a mythic creature of the sea that can take human form when it falls in love with the right person. Syracuse almost believes that Annie is right, especially after good luck and good fishing begins coming his way after discovering her, but unfortunately the woman Syracuse has named Ondine (Alicja Bachleda) has certain concerns more pressing than the good fortune of her benefactor. Ondine was an official selection at the 2009 Toronto International Film Festival. ~ Mark Deming, Rovi
News & Interviews for Ondine
Critic Reviews for Ondine
Audience Reviews for Ondine
Though flawed in a few aspects, this decent little film is well balanced between melancholy and poetic, and it tells more about the viewer than the characters, since there will be diverse feelings about the ending depending if you are more of a realist or a romantic.
Carlos Magalhães
Super Reviewer
Colin Farrell plays Syracuse, a fisherman who unknowingly nets Ondine, an ethereal beauty who to his surprise is alive... and to his dismay remains completely mysterious as to who she is and why she doesn't want to be seen by anyone else. Syracuse's young daughter, suffering from kidney disease, suggests that the secretive Ondine might be a Selkie; a (supposedly) mythical sea creature that can take human form when it falls in love at first sight with the right person. Syracuse is skeptical until his luck changes for the better, which he suspects may have something to do with Ondine's tendency to break into song (coincidentally a Selkie trait). Before long romance ensues. "Ondine" is a beautiful modern fairytale, from the versatile and vastly underrated Neil Jordan. There's an elegance and poetic minimalism here that perfectly sells this simple and rather somber story. The lush Irish countryside pops through the lens of Christopher Doyle, and Jordan really establishes a time and place here. It all feels vividly real and indescribably dreamlike. Perfect grounds for a fairy tale. Colin Farrell plays an ex-alcoholic every man, and for an actor of such movie star charisma and uneven public opinion, it's always nice to see him disappear into smaller, less obvious fare. He's good here as always, but Alicja Bachleda as Ondine is such a striking presence; mystifying and completely synonymous with this film. Both however are outclassed by the young Alison Barry. Playing farrell's daughter she steals every scene with quick-wit and timing well beyond her age. The film's conclusion is the only thing that I can see really dividing viewers. Jordan takes things in a rather dark direction towards the end, and I can see this spoiling the established tone and charm for some. It's unexpected and akin to most classic fairytales, and I personally appreciated the change in pace. "Ondine" is so good that it even makes a few obvious cliches (the ex-drunk who starts to drink again for a little emotional manipulation/ the priest who acts as the main character's muse and is way more open-minded and understanding than actual priests) seem less than detrimental. "Ondine" is a really good movie from one of the most underappreciated filmmakers currently working. A great find for anyone looking for something out of the ordinary.
½
I respond well to movies with honesty and heart, and Ondine has plenty of both. Set in an Irish fishing town, you can also feel the love and respect of the filmmaker for the rugged and beautiful setting. The performances are excellent, with especially good work by the the young Alison Barry playing the part of Colin Farrell's daughter, who suffers from kidney failure and must undergo regular dialysis (reminded me of the early work of Dakota Fanning). The film's "feel" is a bit darker than I expected, making the injections of wry Irish humor in Colin's confessions to the priest (played by Stephen Rea) even more enjoyable. The script keeps you wondering until very near the end, "Is this really a modern fairy tale, or is there a more earthly explanation?"
Dean McKenna
Super Reviewer
Ondine Quotes
There are no approved quotes yet for this movie.