On the Waterfront
(1954)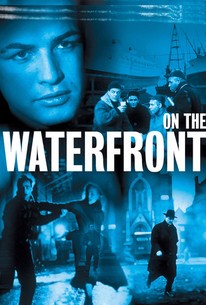 TOMATOMETER
AUDIENCE SCORE
Critic Consensus: With his electrifying performance in Elia Kazan's thought-provoking, expertly constructed melodrama, Marlon Brando redefined the possibilities of acting for film and helped permanently alter the cinematic landscape.
Movie Info
This classic story of Mob informers was based on a number of true stories and filmed on location in and around the docks of New York and New Jersey. Mob-connected union boss Johnny Friendly (Lee J. Cobb) rules the waterfront with an iron fist. The police know that he's been responsible for a number of murders, but witnesses play deaf and dumb ("plead D & D"). Washed-up boxer Terry Malloy (Marlon Brando) has had an errand-boy job because of the influence of his brother Charley, a crooked union lawyer (Rod Steiger). Witnessing one of Friendly's rub-outs, Terry is willing to keep his mouth shut until he meets the dead dockworker's sister, Edie (Eva Marie Saint). "Waterfront priest" Father Barry (Karl Malden) tells Terry that Edie's brother was killed because he was going to testify against boss Friendly before the crime commission. Because he could have intervened, but didn't, Terry feels somewhat responsible for the death. When Father Barry receives a beating from Friendly's goons, Terry is persuaded to cooperate with the commission. Featuring Brando's famous "I coulda been a contendah" speech, On the Waterfront has often been seen as an allegory of "naming names" against suspected Communists during the anti-Communist investigations of the 1950s. Director Elia Kazan famously informed on suspected Communists before a government committee -- unlike many of his colleagues, some of whom went to prison for refusing to "name names" and many more of whom were blacklisted from working in the film industry for many years to come -- and Budd Schulberg's screenplay has often been read as an elaborate defense of the informer's position. On the Waterfront won Oscars for Best Picture, Best Director, Best Adapted Screenplay, Best Actor for Brando, and Best Supporting Actress for Saint. ~ Hal Erickson, Rovi
News & Interviews for On the Waterfront
Critic Reviews for On the Waterfront
Audience Reviews for On the Waterfront
½
Kazan's self-defense for naming names to the House Committee on Un-American Activities (HUAC) in 1952 (and his apologia for denunciation) is a gritty combo of realistic crime drama, romance and character study with a stellar central performance by Marlon Brando.
Carlos Magalhães
Super Reviewer
All these years later Elia Kazan's film about mob corruption in the dock workers' unions is still poignant and thrilling. Marlon Brando plays ex-boxer and mob front man Terry Malloy. He falls for Edie Doyle (Saint), a dock worker's daughter, and an outspoken opponent of the mob's hold on the workers. The film is an indictment of mob ties, but also highlights the mob's ability to corrupt the innocent, and turn those who have little or no options. Terry has been taken in because his brother (Steiger) has no confidence in him, which turns him into a bum. He finally stands up for himself, and in the process finds the love of Edie Doyle, and fights for the many workers who are disadvantaged. This is a beautifully fraught film that yields some of the most emotionally deep performances of Saint or Brando's careers. This is a portrait of Old Hollywood, a film that pushes political boundaries, and a film that is just, simply amazing by any standard.
Spencer S.
Super Reviewer
Marlon Brando steals the show with a pulse-pounding performance as Terry, a man who has never been trusted ever since his departure from world-class fighting. He is now living on the streets with no real home, falling for a woman and trying to earn respect from everyone else. As this woman's brother dies, she seeks Terry for help after realizing he has nothing left to lose. There are very tight moments of dialogue and the chemistry between each character interaction is phenomenal. This is one of the best crime films I have ever seen, because instead of focussing on the blood and guts of the real crime, it focusses on the mystery of it and the subtlety of the aftermath and recovery/revenge. "On the Waterfront" is brilliantly acted, stupendously directed, and filmed to perfection. I Love this film!
On the Waterfront Quotes
There are no approved quotes yet for this movie.