Oliver!
(1968)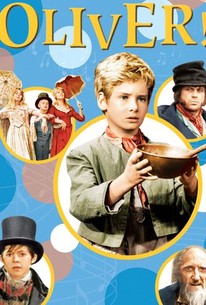 TOMATOMETER
AUDIENCE SCORE
Critic Consensus: It has aged somewhat awkwardly, but the performances are inspired, the songs are memorable, and the film is undeniably influential.
Movie Info
Inspired by Charles Dickens' novel Oliver Twist, this film version of the musical hit does a masterful job of telling its story almost exclusively through song and dance. Once 9-year-old orphan Oliver Twist falls in with such underworld types as pickpocket Fagin, it becomes necessary to inject more "straight" dialogue.
News & Interviews for Oliver!
Critic Reviews for Oliver!
Audience Reviews for Oliver!
They made this in Britain?!? Yes, it's hard to believe, but somehow the Brits got their ducks in a row and turned out this big, rich, snazzy product of such high quality (and without a lot of talking, their national strongpoint) that you'll be left wondering. The music is highly contagious, the performances (except for young Olivier himself) very strong, and everything else is simply very well done. Standouts include Ron Moody, Oliver Reed, and the undeniable Jack Wild.
Kevin M. Williams
Super Reviewer
This multi-Oscar winner is the film version of the satge musical adaptation of the classic novel Oliver Twist by Charles Dickens. As you might expect, it's a sumptuous well-done British affair filled with excellent sets and costumes, good music, and some decent performances. As for how it fares as an adaptation? Well, pretty decently. It's certainly entertaining, though I can't say I've ever really been all that into Oliver Twist (in any form). That makes my praise seem odd no doubt, but I'm the sort of person who can give praise to something when it is well done, even if it's really not my thing. The casting is good, as are the performances, but special credit must be given to Oliver Reed as Bill Sykes, a chilling performance that the Nostalgia Critic (Doug Walker) rightfully included on his list of the Top 11 Scariest Performances. He's a real creep, and Reed's take is wonderfully done. Shani Wallis's Nancy and Ron Moody's Fagin are pretty good too. Mark Lester is capable as the title character, but his voice (mostly singing) is a bit much for me. I know I can't fault him for not hitting puberty by the time this film was made, but damn. It's not distracting enough to take the movie down though. Carol Reed, the director behind the masterpiece that is The Third Man, does a really good job of bringing this musical to life on the big screen. There's nothign really cinematically showy going on, but it's solid and well played nonetheless. If you happen to like musicals or the source material, then yeah, give this one a go. Unlike almost all 1960s movie musicals, this one is at least under 3 hours.
Chris Weber
Super Reviewer
erika bruhns
Super Reviewer
Oliver! Quotes
There are no approved quotes yet for this movie.