The Old Maid
(1939)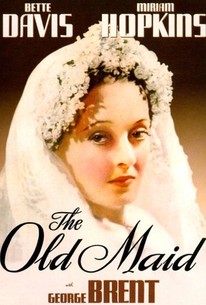 AUDIENCE SCORE
Critic Consensus: No consensus yet.
Movie Info
In this film, Delia Lovell marries James Ralston, leaving her old beau Clem Spender out in the cold. Delia's cousin Charlotte comforts Clem by spending the night with him. Charlotte becomes pregnant, secretly farming out her daughter Tina to another family.
Critic Reviews for The Old Maid
All Critics (4) | Top Critics (1) | Fresh (3) | Rotten (1)
The characters are well conceived, they react credibly, and they actually develop as the action progresses. The story is adult, insofar as it is concerned with something beyond getting a certain girl into the arms of a certain man. But how dull it is!

A well-oiled assembly of betrayals, vendettas, and maternal passion plays
Bette Davis at the peak of her acting chops, a brilliant, melodramatic role.
November 1, 2008 | Rating: 5/5
Audience Reviews for The Old Maid
A well-done meloncholy drama of a lively young debutante turned bitter old-maid.
nefnie lee
Super Reviewer
½
"the old maid" is a tear-jerking melodrama about unrequited love and maternal sacrifice, another soap opera-alike flick to showcase bette davis' craftmanship. davis plays a woman who loves her best friend's former beau(george brent) whom she elopes with after he confirms her cancellation of their engagement. so davis takes over her best friend's former finacee and concieves of his child. later on davis constructs a orphanage to conceal the real identity of her own daughter. then her best friend adopts her child (seemingly just an orphan) so these two women together raise the child of the man they both love for years while davis remains disgracefully "the old maid" at the cost of another chance of potential marriage. but indignantly when her own child grows up, she resents davis' severe upbringing, deeming her real mother just her auntie charlotte, mocking davis as "the old maid"....at last, the child follows her adopted mom's advice to kiss her aunt on the cheek before she departs on the carriage with her groom after the wedding. undeniably, miss davis is a talented actress who is willing to uglify herself with elder-woman cosmetics to fit into the needs of the script. but the whole story is utterly over-sentimental with overlonged plot developments, dragged and delayed, just like accompanying your elder parents to watch a soap opera which you cannot wait for it to end! davis usually selects movies with hidden preachy messages to encourage female audience to be strong and courageous, and she shall be the representative of the new brave woman, a role model there to cheer women on their own stance to serve the puritanical feminine virtues. "the old maid" is too healthy to disgest into the stomach of every cynist or skeptist. you cannot help but exclaim "another chic flick!" personally i don't consider it defying to comply to a man's whimsical wills and devote your life to an obscured belief of love. maybe it's more fun to see a brittle joan crawford pose a gun and remark "the world ain't made for nice guys!" ha.
Veronique Kwak
Super Reviewer
The Old Maid Quotes
There are no approved quotes yet for this movie.