Off the Black
(2006)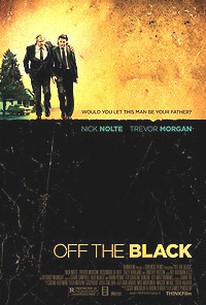 TOMATOMETER
AUDIENCE SCORE
Critic Consensus: Nick Nolte shines in his role as an irascible high school umpire, imbuing this indie coming-of-age dramedy with heft and true-to-life warmth.
Movie Info
In this coming-of-age story, teenager Dave Tibbel copes with his own distant father by forming an unlikely friendship with a disheveled, irascible high school umpire, Ray Cooke. As they grow more dependent on each other, Ray asks Dave to go to his 40th high school reunion and pretend to be his son, a benevolent act of deception that winds up opening unexpected dimensions in the two men.
News & Interviews for Off the Black
Critic Reviews for Off the Black
Audience Reviews for Off the Black
Cast: Nick Nolte, Trevor Morgan, Marlyne Afflack, Timothy Hutton, Rosemarie DeWitt, Noah Fleiss, Sally Kirkland Director: James Ponsoldt Summary: An unlikely bond forms between high school baseball pitcher Dave Tibbel (Trevor Morgan) and reclusive, ailing umpire Ray Cook (Nick Nolte) after Ray catches the youngster vandalizing his home. Ray offers to forgive Dave's debt if he'll pose as Ray's estranged son at an upcoming class reunion. Meanwhile, Dave contends with his withdrawn father (Timothy Hutton), who's been a wreck since his wife left him. My Thoughts: "It's a sad film about two people who form a special bond with each other. They are both missing something in their lives. Ray, a relationship with his son, and Dave, a relationship with his father. So the pair have these father and son moments and then the relationship ends. Dave is saddened and asks the question "does everyone leave?", which really makes you feel bad for his character. It's a bit of a slow drama, but it develops well. Haven't seen Nick Nolte in a movie in quite a long time. I thought he was really great, and Trevor Morgan was great as well. Their relationship and characters were believable, and to some of us, relatable. Good movie all around."
♥˩ƳИИ ƜѲѲƉƧ♥
Super Reviewer
½
[font=Century Gothic]"Off the Black" starts with Dave(Trevor Morgan) walking in the winning run in a high school baseball game umpired by Ray(Nick Nolte), a 57-year old who works at a junkyard and lives with his bulldog. That night, Dave and two of his friends vandalize and toiletpaper Ray's house but Ray catches Dave in the act while his two friends get away.(But Dave is a good kid. Trust me. He lives with his father(Timothy Hutton) and younger sister, Ashley(Sonia Feigelson).) Ray promises to let the prank go on the condition that Dave accompany him to his 40th high school reunion and pretend that he is his son.[/font] [font=Century Gothic]"Off the Black" is an exploration of why umpires are some of the most vilified people around. To be serious, it is about how wrong it is to blame one's problems on other people(like blaming a lost game on an umpire's decision), instead of accepting responsibility for one's life. And we should all shut off the television, get out of the house more and live life to its fullest but I could think of plenty of better things to do than attend a reunion.(Both Ray and Dave's father sit around and consume an unholy amount of beer.) In the end, Ray does not realize what he is missing until he knows he is dying. But it is ironic that a movie about life is so lifeless and flat, despite another rich performance from Nick Nolte.[/font]
Off the Black Quotes
There are no approved quotes yet for this movie.