Oblivion
(2013)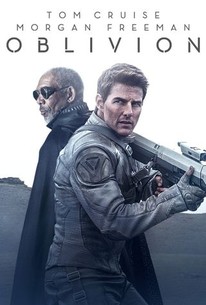 TOMATOMETER
AUDIENCE SCORE
Critic Consensus: Visually striking but thinly scripted, Oblivion benefits greatly from its strong production values and an excellent performance from Tom Cruise.
Movie Info
Tom Cruise stars in Oblivion, an original and groundbreaking cinematic event from the visionary director of TRON: Legacy and producers of Rise of the Planet of the Apes. On a spectacular future Earth that has evolved beyond recognition, one man's confrontation with the past will lead him on a journey of redemption and discovery as he battles to save mankind. 2077: Jack Harper (Cruise) serves as a security repairmen stationed on an evacuated Earth. Part of a massive operation to extract vital resources after decades of war with a terrifying alien threat who still scavenges what's left of our planet, Jack's mission is almost complete. In a matter of two weeks, he will join the remaining survivors on a lunar colony far from the war-torn world he has long called home. Living in and patrolling the breathtaking skies from thousands of feet above, Jack's soaring existence is brought crashing down after he rescues a beautiful stranger from a downed spacecraft. Drawn to Jack through a connection that transcends logic, her arrival triggers a chain of events that forces him to question everything he thought he knew. With a reality that is shattered as he discovers shocking truths that connect him to Earth of the past, Jack will be pushed to a heroism he didn't know he contained within. The fate of humanity now rests solely in the hands of a man who believed our world was soon to be lost forever. (c)Universal
News & Interviews for Oblivion
Critic Reviews for Oblivion
Audience Reviews for Oblivion
½
Tom Cruise anchors and leads this reasonably crafted sci-fi about a mechanical tech of the future, left all but alone on the planet, fixing drones in a boring routine that's slowly turning his brain to mush ... or at least that's how it seems. The truth of his reality is in fact far more sinister and makes for a decent entry to the genre. While not heralded as top notch by the purists of the day this turns out to be a worthy effort, lacking oomph perhaps but yet sustaining interest. Give it a chance.
Kevin M. Williams
Super Reviewer
Based around a graphic novel I've never heard of and that's because it doesn't actually exist, seemed to be a clever smokescreen to gather interest in the new film. So its just an independent sci-fi film then, but that's good no? well kinda, but then again the main star is Tom Cruise so... The film kicks off with narration by Cruise's character as to the fate of the Earth. Immediately I noticed the film looks amazing, I loved how they have created the desolate left overs of human civilisation with the odd landmark or tall building remaining but basically half buried and surrounded by a fresh new landscape. What we know of our world is virtually gone, through earthquakes and tsunamis everything has been buried deep creating a new face to Earth's surface...and it looks awesome! The visuals in this film are nothing short of spectacular, I haven't seen such crisp sharp images for some time and that includes the CGI. But the film isn't drowned in CGI, that's the key, its used for landscapes, skylines, ruins, buildings etc...things that tend to work well rendered in CGI. There are no big alien monsters or stupid sidekick creatures etc...this is a semi serious sci-fi. I do get the impression they have tried for a '2001' approach here, a very realistic depiction of what could be. Designs are logical and functional, outfits and weapons aren't too silly or gung-ho, building interiors are pretty minimal in a slick 70's sci-fi kind of way (maybe a bit too clean) and the day to day activities of the main characters are mundane. Of course there are sequences within the film which pander to the regular lowest basic common sci-fi denominator which is a true shame, but you gotta have gunfights and death in everything these days huh. Now the plot...oh lord! the plot. Where to begin? I'll be honest, I liked the film to a degree but the plot had me guessing all the way...in a bad way. There is a lot of confusion in this film which in my opinion isn't entirely explained. Its hard to review without spoilers, basically we don't find out what is really going on until near the end, up to that point its a frustrating game of guess what's going on. The main plot point is the twist of course, revolving around the main characters, that much is clear. But for most of the time you can't really say if there are any actual aliens in this, was the Earth actually destroyed by aliens or is it a huge cover up for something else? With the ragtag humans hiding out on Earth (the story leads you to think they are aliens at first) you kinda assume its a big government cover up. Of course it seems Earth was destroyed by an alien force, but we never see them, the machines in control via the 'Tet' are automated A.I., presumably controlled by an alien race on another planet or ship?? And why is it called the 'Tet'? is that a human moniker? And on the subject of this alien invader race, why send machines to invade? did they know to destroy our Moon or was that a mistake? and why capture and use cloned humans for the invasion? They have those high powered drones which are armed to the teeth and extremely versatile, why didn't they just use the drones to invade Earth? surely they would be far more lethal, precise, with faster results and cause less problems than cloning would inevitably cause. I would imagine cloning would also take much more time no? The drones really did make the whole cloning concept in this film quite redundant if you ask me. Plus in what way would our planets resources benefit them? I'm guessing they must have a planet similar to Earth? they must do, and the alien race must be similar to us in build and requirements...presumably. But as the story progresses the story begs more and more questions. Why were a team of astronauts flying to Titan and why did they need such a big crew? When that crew were ejected back to Earth why did they simply orbit for sixty odd years? why did the humans on the surface wait so long to bring them down? It seems Morgan Freeman and his cronies only decided to bring them down once they discovered the weakness in Cruise's character. So until then they just left them in orbit? I still don't quite follow how or why the drones are unable to kill the Earth bound humans when they are camouflaged in their 'scav' outfits. Those hi-tech alien drones can't get through some human jetfighter tech and voice scramblers? What are those outfits suppose to be exactly with all those feathers stuck on their helmets? and how did they make them?? Why does the alien controller Sally have a Southern drawl and where that kid came from at the very end, was Julia pregnant the whole time? Oh and why does Freeman wear a black cape and those goggle-like shades?? didn't notice much intense sunshine. I guess what I'm saying is I really loved the way this film looked, a real leap forward in visual sci-fi. Some of the designs like the bubble ship/helicopter craft Cruise's character flies are really original and striking, the drones were a bit generic and the 'Tet' was kinda drab looking but on the whole its a visual feast for the eyes. I was hoping for a sensible serious sci-fi, on one hand I got it, no doubt about that, but I can't help but feel there was a classic sci-fi here. So close, but like the soundtrack/musical score and by the numbers superstar casting of Cruise, poor decisions have been made.
Phil Hubbs
Super Reviewer
Repetitious, confusing and mainly unfocused, Oblivion is a misconceived hodgepodge of clichés and contrivances from the first scene to the last, and it is hard to imagine how the result could have been stodgier or more predictable than what we see here.
Carlos Magalhães
Super Reviewer
Oblivion Quotes
There are no approved quotes yet for this movie.