Now, Voyager
(1942)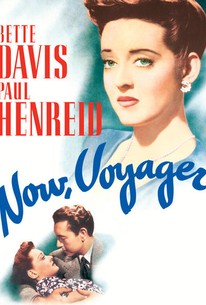 Movie Info
Olive Higgins Prouty's popular novel was transformed into nearly two hours of high-grade soap opera by several masters of the trade: Warner Bros., Bette Davis, Paul Henreid, director Irving Rapper, and screenwriter Casey Robinson. Davis plays repressed Charlotte Vale, dying on the vine thanks to her domineering mother (Gladys Cooper). All-knowing psychiatrist Dr. Jaquith (Claude Rains) urges Charlotte to make several radical changes in her life, quoting Walt Whitman: "Now voyager sail thou forth to seek and find." Slowly, Charlotte emerges from her cocoon of tight hairdos and severe clothing to blossom into a gorgeous fashion plate. While on a long ocean voyage, she falls in love with Jerry Durrance (Henreid), who is trapped in a loveless marriage. After kicking over the last of her traces at home, Charlotte selflessly becomes a surrogate mother to Jerry's emotionally disturbed daughter (a curiously uncredited Janis Wilson), who is on the verge of becoming the hysterical wallflower that Charlotte once was. An interim romance with another man (John Loder) fails to drive Jerry from Charlotte's mind. The film ends ambiguously; Jerry is still married, without much chance of being divorced from his troublesome wife, but the newly self-confident Charlotte is willing to wait forever if need be. "Don't ask for the moon," murmurs Charlotte as Max Steiner's romantic music reaches a crescendo, "we have the stars." In addition to this famous line, Now, Voyager also features the legendary "two cigarettes" bit, in which Jerry places two symbolic cigarettes between his lips, lights them both, and hands one to Charlotte. The routine would be endlessly lampooned in subsequent films, once by Henreid himself in the satirical sword-and-sandal epic Siren of Baghdad (1953).
News & Interviews for Now, Voyager
Critic Reviews for Now, Voyager
Audience Reviews for Now, Voyager
½
After undergoing psychotherapy for damage caused by her domineering mother, a woman meets a dashing man, but his marriage complicates their romance. Paul Henreid. Why would Isla choose Bogie over you? She certainly wouldn't if the "you" in Casablanca was the epitome of charm that the "you" in this film is. Lighting two cigarettes without breaking eye contact and flipping one around to a lady, you rock the forties definition of masculinity. And Bette Davis. You weren't always scary looking. This is an exceptionally charming but wrought film. All the high drama is played to its highest, but the plot takes the easy way out of some of its conflicts. Most notably, instead of Charlotte confronting her mother about her childhood and the two coming to some kind of cathartic compromise, Mom dies so the love plot can continue. And the love plot resolves in an equally unsatisfying and convenient manner. Overall, the performances by the leads are wonderful, but the story is too convenient for my liking.
Jim Hunter
Super Reviewer
½
Max Steiner's haunting score swells like a tidal current throughout this, the grand mal weeper to end all weepers. A young woman struggles valiantly against the overprotective will of her indomitable rock of a mother, herself made hard by life, to forge a life and love free of restraint. Paul Henried is understanding, charming and loyal, Claude Rains is wise, insightful and patient, but Bette, scratching and clawing her way from ugly duckling to grace, gives the shimmering performance of a lifetime
Kevin M. Williams
Super Reviewer
½
An interesting story for a drama, but I'm not very fond of this movie for some reason, I don't know why I don't like it, it's not a bad movie, it's actually pretty good. Maybe if there was a different cast?
Now, Voyager Quotes
There are no approved quotes yet for this movie.